Brian Fallon & The Howling Weather – NEW DATE 6/3/21
With Justin Townes Earle & Worriers
Thursday,
June
3,
2021
Doors: 6:30PM
$28.50 // $31.50
All Ages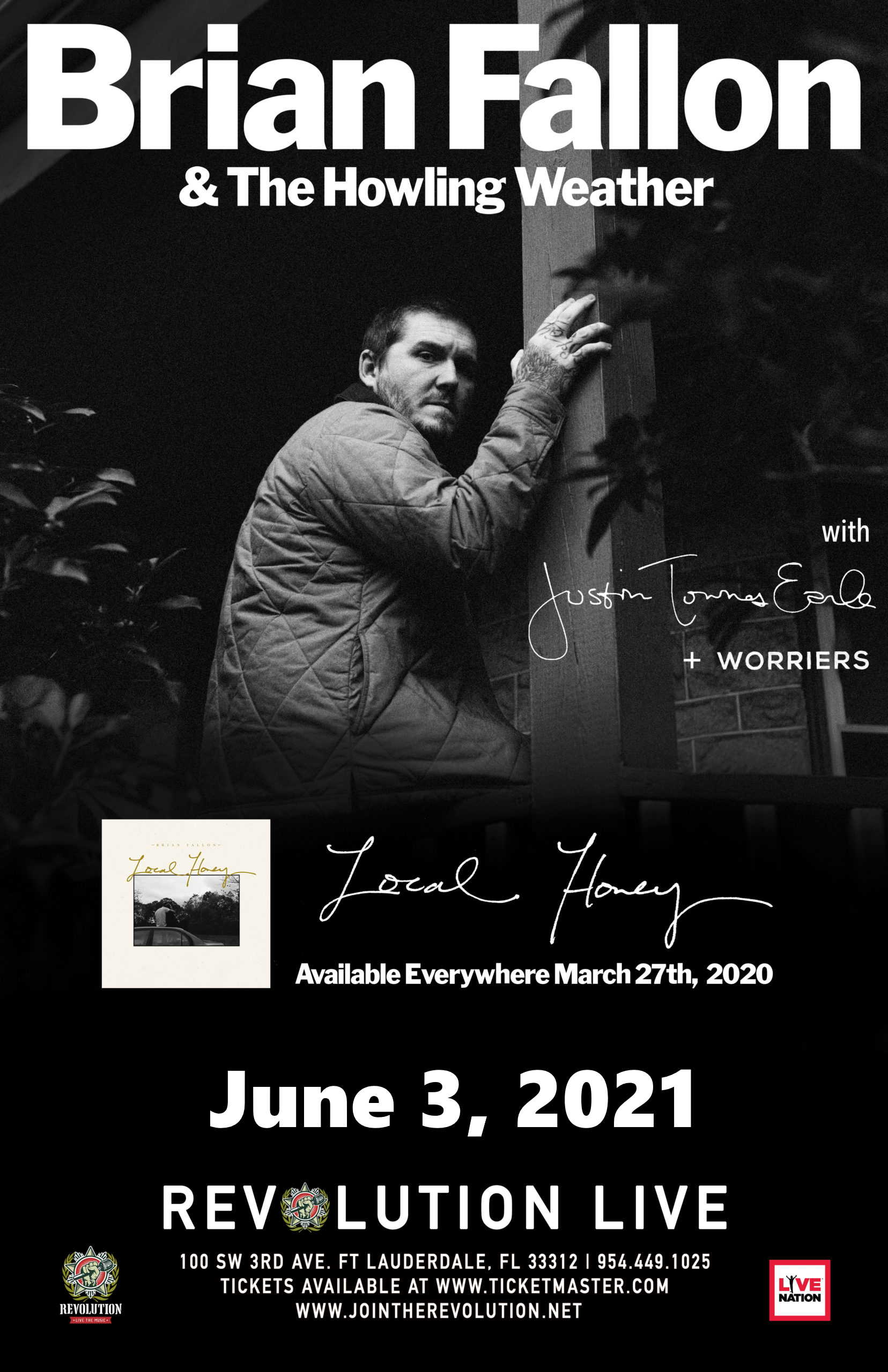 Due to circumstances outside of our control, we regret to inform you that Brian Fallon has been postponed until 6/3/21.   So hang on to your tickets, looking forward to seeing you at the show!
—
A singer and songwriter whose music fuses the urgency of punk rock with the passion and song craft of heartland rock, Brian Fallon rose to fame as the leader of the band the Gaslight Anthem before moving on to a solo career. Fallon was born in Red Bank, New Jersey on January 28, 1980. His mother had been a professional musician, performing with a folk group, but Brian's early musical efforts were as strongly informed by punk and alternative rock. Under the name No Release, Fallon recorded his first album in 1997, a 16-song cassette-only release titled The Coffeehouse Sessions. Not long after, Fallon joined a ska-punk band called Surrogate McKenzie, who dropped four self-released cassettes between 1998 and 2000. In 2001, Fallon launched a new band, the short-lived Amping Copper, who released a self-titled six-song EP before fading out.
After producing a solo EP, Cincinnati Rail Tie, in 2004, Fallon founded a new group, This Charming Man, with Fallon on vocals and guitar along with Michael Volpe (lead guitar), Chris Clementi (bass), and Mike Leboeuf (drums). This lineup cut an EP, Every Little Secret, that was released in 2005, but the band soon began to splinter, and Clementi and Leboeuf left the group late that year, with bassist Alex Levine and drummer Benny Horowitz taking their places. When Volpe left This Charming Man in early 2006, guitarist Alex Rosamilia came aboard, and the group changed its name to the Gaslight Anthem.
In May 2007, the Gaslight Anthem released their first album, Sink or Swim, and the group quickly developed an underground following that gave way to mainstream acceptance with the release of 2008's The '59 Sound. Bruce Springsteen, whose music was a major influence on the Gaslight Anthem, not only gave the band a spot on the bill at his 2009 Hyde Park concert in London, but at the Glastonbury Festival later the same year, Springsteen joined the Gaslight Anthem during their set and he brought Fallon onstage to join him for part of his headlining performance. In 2010, the Gaslight Anthem released their third album, American Slang, and the following year Fallon launched a side project, the Horrible Crowes, featuring himself and guitarist Ian Perkins, who worked as a guitar tech with the Gaslight Anthem; the first Horrible Crowes album, Elsie, arrived in September 2011.
With 2012's Handwritten, the Gaslight Anthem rose to major-label status, signing a deal with Mercury Records, though a corporate reorganization would move the group to Island Records for 2014's Get Hurt, a song cycle informed by Fallon's divorce. During the downtime between the two albums, Fallon teamed up with guitarist and singer Brian McGee, bassist Catherine Popper, and drummer Randy Schrager for another side project, Molly and the Zombies; Fallon said they intended to release no studio material, though the band made several live tracks available online.
In July 2015, after the Gaslight Anthem completed a tour of Europe, the bandmembers issued a statement declaring they were on indefinite hiatus, and three months later Fallon announced he would soon be entering the studio to record a solo album. "A Wonderful Life," the first single from Fallon's solo project, was unveiled in December 2015, and the full-length album, Painkillers, dropped in March 2016. He followed up a month later with the Record Store Day exclusive EP Georgia, and spent much of the next year touring in support of his two releases. Late 2017 saw the release of two singles, "Forget Me Not" and "If Your Prayers Don't Get to Heaven," both in advance of Fallon's second solo LP, Sleepwalkers, which arrived the following year.
Location
Revolution Live
100 SW 3rd Ave.
Fort Lauderdale
FL
33312