CHVRCHES
With fanclubwallet
Tuesday,
May
31,
2022
Doors: 7:00 PM
$38.50 // $40
All Ages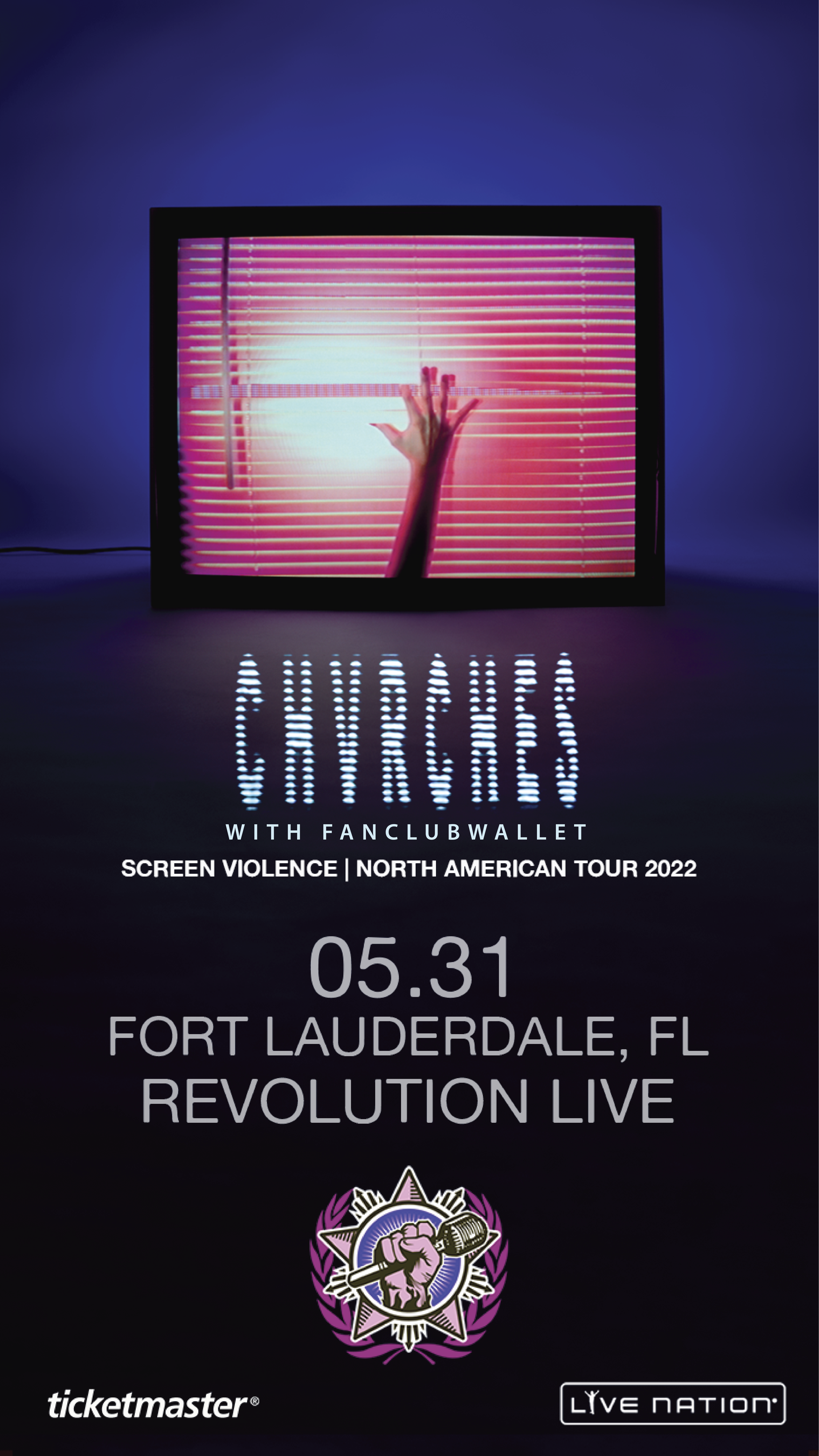 Crafting songs with big synths and bigger melodies, Chvrches combine their indie roots with their love of chart-friendly pop. The mix of Lauren Mayberry's crystalline, emotive vocals and the sweeping synths of Iain Cook and Martin Doherty on 2013's bittersweet yet anthemic debut album The Bones of What You Believe bridged the gap between the classic synth pop of Depeche Mode and New Order and the brash, EDM-influenced sounds of the early 2010s, influencing countless contemporaries along the way. Later, Chvrches brought an extra sheen to their music without sacrificing any of its depth. They went all in on their pop leanings on 2018's Love Is Dead, where their collaborators ranged from pop producer Greg Kurstin to the National's Matt Berninger. On 2021's Screen Violence, Chvrches sharpened the edges and hooks of their songs as they reaffirmed their place as synth pop standard-bearers.
Before Chvrches formed, keyboardist/vocalist Iain Cook and keyboardist/vocalist Martin Doherty became friends in 2003 while studying at Glasgow's University of Strathclyde. The pair forged their musical partnership when Doherty asked Cook to produce his band Julia Thirteen. Though little came of the sessions, they continued to work together, and became members of the band Aereogramme. By 2007, they had left that group, with Doherty joining the Twilight Sad as a touring member and Cook becoming a composer for film and television. Seeking a change from alternative rock, they founded their own experimental synth project. In September 2011, the pair invited vocalist Lauren Mayberry, who'd previously played with the band Blue Sky Archives and holds a law degree as well as a Master's degree in journalism, to sing on some demos. The sessions went so well that the trio christened itself Chvrches — spelling it with a "v" instead of a "u" to differentiate themselves in internet searches — and began writing songs inspired by Prince, Depeche Mode, and Kate Bush.
In May 2012, Chvrches posted their first song "Lies" online. It quickly became a viral hit and received airplay on BBC Radio 1. The band's official debut single, "The Mother We Share," appeared in November 2012 and was also an online hit. Late that year, Chvrches were among the acts selected for the BBC's Sound of 2013, ultimately finishing fifth. In January 2013, the band signed with Glassnote and soon embarked on an international tour that included a performance at that year's South by Southwest Festival in Austin, Texas. That March saw the release of the Recover EP, and Chvrches' debut album The Bones of What You Believe appeared that September. Recorded in Glasgow's Alucard Studio with a handful synths including a Minimoog Voyager, the album debuted at number nine on the U.K. albums chart and was later certified gold in the U.K. It also entered the Top 20 on the charts in Canada, Australia, and the United States, among other countries. "The Mother We Share" also charted in the U.S., Japan, Belgium, and the U.K., where it was a Top 40 hit; in July 2014, the song was featured in the opening ceremony for the Commonwealth Games in Glasgow. Later in the year, the band contributed the track "Get Away" to the re-scored soundtrack to Nicolas Winding Refn's influential 2011 film Drive, and covered Bauhaus' "Bela Lugosi's Dead" for the movie Vampire Academy: Blood Sisters.
In January 2015, Chvrches began working on new material at Alucard Studios, which they were able to upgrade thanks to the success of The Bones of What You Believe. Taking inspiration from Quincy Jones' lean yet massive-sounding production style, their second album, Every Open Eye, appeared in September 2015. The album debuted at number four in the U.K., reached number eight on the Billboard 200 Albums chart in the U.S., and also became a Top Ten hit in Australia, Ireland, Scotland, and New Zealand. Every Open Eye's singles included a version of "Bury It" that featured Paramore's Hayley Williams.
In 2016, Chvrches performed at Royal Albert Hall for the first time and collaborated with Solar Fields on "Warning Call," which appeared in the video game Mirror's Edge Catalyst. The following year, the band contributed a cover of Tegan and Sara's "Call It Off" to the tenth anniversary edition of the duo's album The Con, and went into the studio with producer Greg Kurstin and collaborator Dave Stewart to work on their third album. Boasting a bigger, more straightforward sound than their previous releases, 2018's Love Is Dead included the singles "Get Out" and "My Enemy," a duet with the National's Matt Berninger. The album debuted at number seven in the U.K. and topped Billboard's Top Rock Albums and Alternative Albums charts in the States. Late that year, Chvrches released the Hansa Session EP. Named after the Berlin studio where it was recorded (and which also hosted David Bowie and Nick Cave, among other artists), it featured acoustic and string-driven arrangements of several of Love Is Dead songs. In 2019, the band performed with the BBC Scottish Symphony Orchestra to commemorate the launch of the BBC Scotland television channel; they appeared on Marshmello's "Here with Me" and contributed the single "Death Stranding" to the album Death Stranding: Timefall, a set of songs inspired by the action video game of the same name. Early in 2020, Chvrches started recording album number four, with Doherty and Mayberry in Los Angeles and Cook in Glasgow. Featuring a darker sound as well as a collaboration with the Cure's Robert Smith, Screen Violence appeared in August 2021. ~ Heather Phares, Rovi
Location
Revolution Live
100 SW 3rd Ave.
Fort Lauderdale
FL
33312