Looking to have a Damn Good event?
We would love to host your celebration, private party, corporate event, and much more. We can host events from 300 to 3,000 guests.
Our mission is to offer innovative experiences for our community through the art of food and beverage.
We offer everything from on-site catering, custom beverage packages, entertainment and production, complete event staff and more.
50th Surprise Party
Frank Perez
Jun 13, 2017
Everyone loved the party! Your staff was professional and attentive. Laura made everything beautiful for the event. The bartenders made outstanding drinks, and the wait staff were always present. It was a surprise party and it was handled it perfectly! The burlesque show made the party different and put it over the top. My only complaint - which is in no way negative - is that the hors d'oeuvres were so good, they went too fast!! All in all, great job done by all. Thank you from the bottom of my heart.
AMPED Event
Alliance Entertainment
Aug 8, 2017
Great event. Group loved the venue and the bands we had. Thanks for being accommodating.
Alzheimer's Association Young Professionals
Oct 13, 2017
We had a fantastic experience. Everyone loved the venue and enjoyed the event. My only wish on my end was that more people showed up that said they would.
Off-Site DCOTA Dine Around Event
Jul 28, 2017
Laura Ortino and Brian Freed were amazing at our event in Crestron at DCOTA. They were incredibly professional, engaging with our guests and left a very memorable impression on all who attended. The pop-up set up was great too - subtle branding and charming decor. And the craft cocktails...well, they were amazing!! Overall we couldn't have asked for more and certainly look forward to working with Stache and their team again in the near future. We'll be recommending to all of our showrooms as well! Thank you!
Annae's Graduation Celebration
Aug 27, 2017
Great space, the staff inside is amazing and the VIP host was attentive! Had an amazing experience, memories!
Nova High School 20 Year Class Reunion
Nov 5, 2017
Working with Laura was a pleasure. She was beyond helpful and worked with us every step of the way. A high school reunion is tricky to plan and she understood the budget and how get the best for what we had. I will highly recommend Bar Stache for friends for their event needs. We also loved the bartenders, they we quick, friendly and made excellent drinks. All around a great evening thanks to the team!
Women In Business & Law Tequila Tasting
Oct 23, 2017
The ambiance was perfect for a tequila tasting and our guests had a nice time.
Segal Trials Holiday Party
December 1, 2017
Everything was perfect. You guys nailed it. Laura, Gustavo and all the catering team, DJ, bartenders... Everyone was so nice and on top of everything. Really, a fabulous team. I will always recommend Stache for events. Thank you all again.
South Florida Claims Association Holiday Party
December 2, 2017
Stache did a great job hosting our corporate holiday party. The food was great and everyone loved the venue! The event coordinator, Haley, made planning this party extremely easy and stress free. We will definitely plan another event here in the future.
Grant Thornton Holiday Party
December 2, 2017
Service was excellent. Venue team was very helpful and willing to help with anything.
Las Olas River House Holiday Brunch Offsite
December 3, 2017
We loved your staff, the set up and the service was amazing!!!
Dentalplans.com Annual Christmas Party
December 8, 2017
From the onset of contacting Stache, the whole experience from beginning to end was top notch. Attention to detail was on point. Professionalism was extraordinary. Accommodations made for us whenever a request was made. Laura, Haley, the chef, Gene, Kevin, Susan, DJ Mark. Everyone who I had any encounter with was incredibly helpful and responsive to our needs. My staff thoroughly enjoyed themselves and will cherish the night and memories made for sure. Thank you all so much again!!!
Charm Bar Mitzvah
December 16, 2018
I just had an event on December 16th and could not have asked to work with a better team then the staff at Revolution. Their attention to detail, warm and friendly staff, and customer service exceeded my expectations. They always made me feel as if I was their only client. I need to acknowledge the staff as they went above and beyond. Laura Ortino is an absolute gem. Laura is amazing to work with and she is an absolute asset to your company. I would also like to mention other staff members that made the party a huge success. Haley, my event coordinator, Emmanuel, in lead security, Luis, lead porter, and Gabe in production made everything seamless. I highly recommend Revolution to anyone who is looking to have a stress-free, AMAZING event.
ILEA Mixology Event
January 9, 2018
On behalf of The ILEA South Florida Carribbean Chapter, I want to thank the Stache Staff for making our event so fun. The staff was friendly, helpful, accommodating and professional.
Josh & Bill's Birthday Party
January 13, 2018
We were greeted nicely and had personalized service the whole evening. We really enjoyed ourselves and can't wait to book again.
Kelley Kronenberg
January 26, 2018
Working with you was such a breath of fresh air - thank you for being so easy to talk to, organized, incredibly flexible and helpful, and for offering your candid input – we appreciate that more than you know. In regards to the firm's events, we are held to an incredibly high standard, and we are expected to deliver flawless, high-caliber events – you and your team helped us achieve that (and easily!), and we can't thank you enough. We will absolutely keep your venues in mind for future events. We have received nothing but positive feedback from our guests – everyone loved the space, the level of service they were provided, and their overall experience at Stache.
CEY Adams Breakfast Presentation
March 9, 2018
The entire Stache team made sure our event ran smoothly, the food was excellent, the space was so great and our guests had nothing but positive feedback. From the large to small details, everything was done with professionalism and accuracy. Will certainly keep them in mind and recommend them for future events.
Forthright Technologies
March 16, 2018
Such a great venue! Perfect for a networking event! The Stache staff were all professional and attentive. I would, without any hesitation, recommend Stache to friends and colleagues! You are good at what you do!
Our Team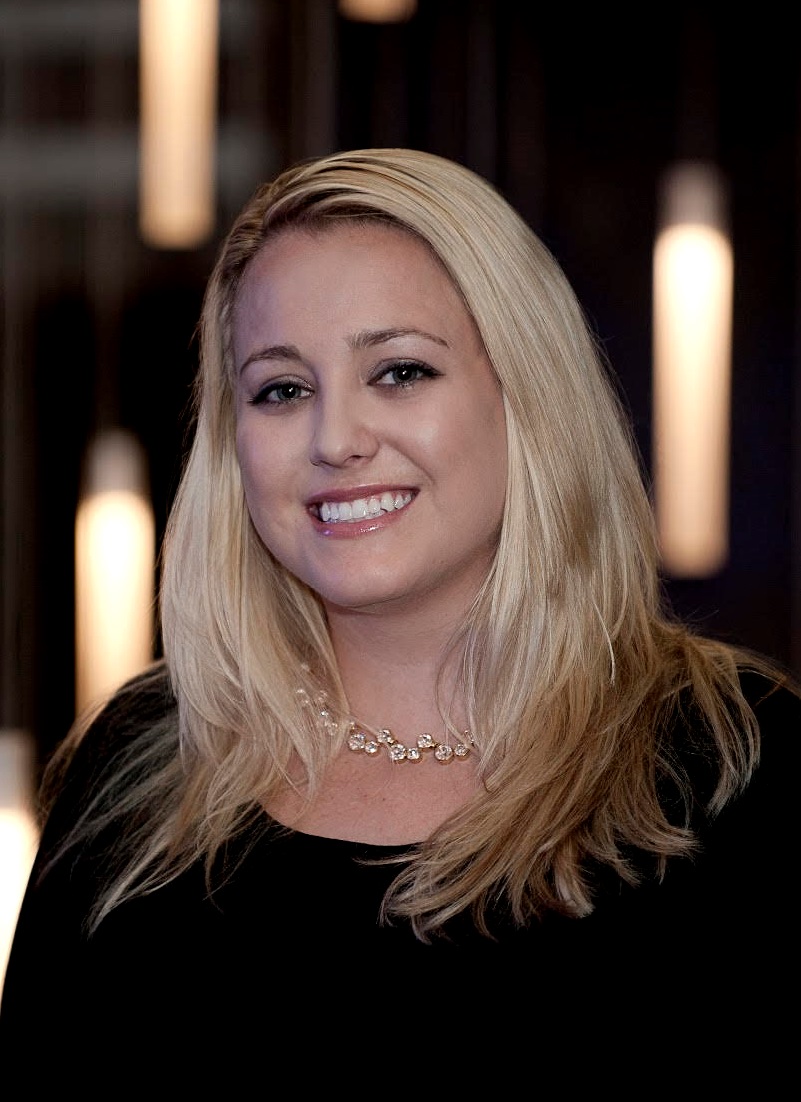 Laura Ortino
Trading the Cape Cod coastline for Fort Lauderdale living, Laura Ortino graduated with a bachelor's degree in Culinary Management from the International Culinary School at the Art Institute Fort Lauderdale. From there, she became the Special Events Coordinator at STARR Restaurants before breaking into the hotel industry — working in sales for both W Hotels and the Ritz-Carlton Hotel Company.
In May of 2017, Laura took the skills she gained from the hotel industry and joined the 3-J Hospitality team as Sales + Events Director. In this role, Laura manages all aspects the events for across all venues, including Revolution Live, America's Backyard and Stache Drinking Den + Coffee Bar.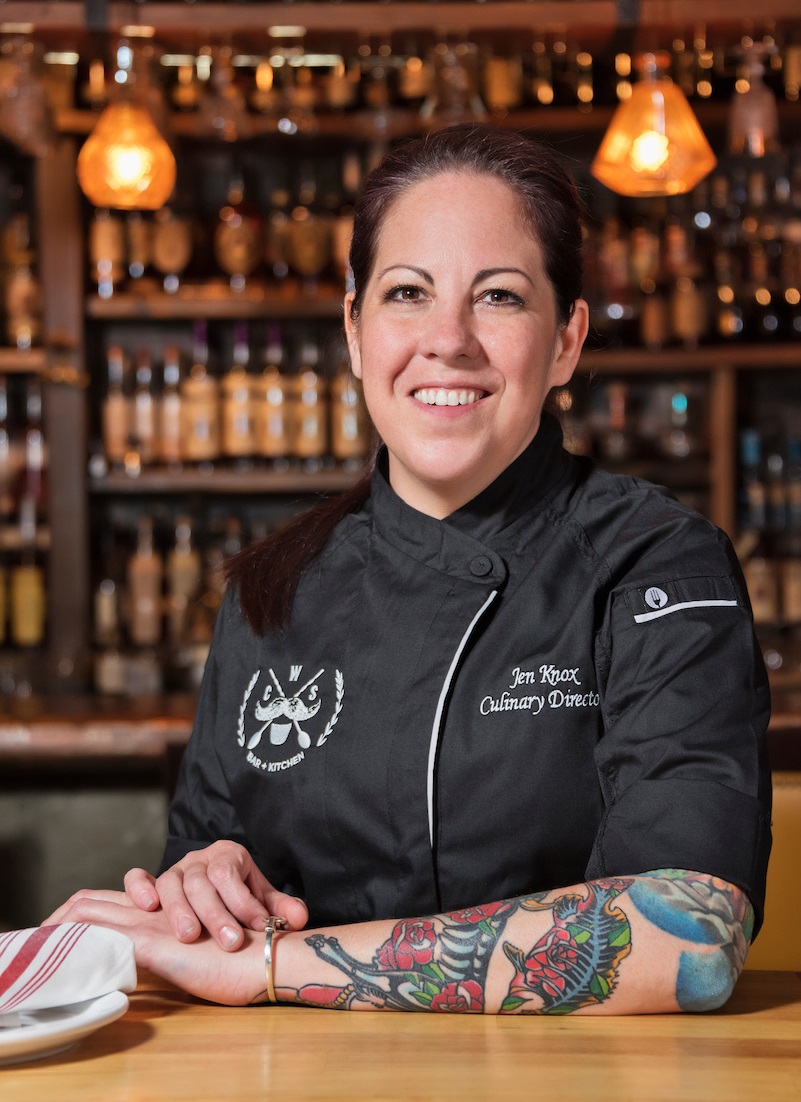 Chef Jen Knox
A Chicago-native, Jen grew up loving Chicago Dogs, Deep dish pizza, and Italian Beefs. At age 12, she took on the task of making nightly family dinner; this was where her love for cooking blossomed.
She attended Le Cordon Bleu in Scottsdale, Az, graduating in 2005. Next she headed to Orlando and joined Walt Disney World as their Chef De Partie. In 2008, the Ritz Carlton Orlando hired her as Banquet Chef. Her next role at the Ritz Carlton as Garde Manger Chef brought her to Naples. She was a 2012 James Beard Participate.
She headed west to join the Wynn Las Vegas in 2014 as their Assistant Executive Chef at The Buffet. She came back to South Florida as Senior Banquet Chef at Fort Lauderdale's Harbor Beach Marriott. Her love of cooking and developing teams led her to oversee culinary operations at Damn Good Hospitality Group's Fort Lauderdale properties Revolution Live, America's Backyard, Stache Drinking Den + Coffee Bar and C.W.S. Bar + Kitchen Lake Worth.