Venue Address:
100 SW 3rd Ave. Fort Lauderdale, FL 33312
Brightline is the easiest way to reach Revolution Live. Brightline Fort Lauderdale station is conveniently located on NW 2nd Avenue (across Broward Boulevard) and only a 10 minute walk to the venue. After crossing Broward Boulevard, guests turn onto Nugent Avenue to reach the venue. Brightline riders can also take a 5 minute Lyft ride from the Brightline Fort Lauderdale station to reach the venue.
*(Brightline Fort Lauderdale Station is located at 101 NW 2nd Avenue.)
Venue:
Revolution Live can accommodate a maximum capacity of 1,300 people, divided between the main floor, second floor, VIP mezzanine, and outside balconies. Revolution Live is a general admission, standing room only venue. VIP seating is available through bottle service reservations; email us to reserve at vip@jointherevolution.net.
ADA Seating Information:
We are a fully general admission venue, so we do not sell any seated tickets in advance of the show. If you require ADA-compliant seating or accommodations, please approach security personnel at our front entrance when you arrive, and they will be able to assist and direct you to the appropriate seating area.
Ticketing:
The ONLY authorized ticketing platforms for Revolution Live are Ticketmaster and our on-site box office. We cannot guarantee the validity of any other tickets. Tickets purchased on any and all unauthorized ticketing sites (any website or outlet other than Ticketmaster) will not necessarily be honored as valid. If you arrive with unauthorized resale tickets, and they cannot scan properly at our entrance, your tickets may be fraudulent. We are not liable and cannot assist you with fraudulent tickets; we suggest contacting your point of purchase.
Tour Revolution Live
Smoking Policy:
Revolution Live does not allow smoking indoors. We have an exterior smoking patio for patrons during shows, located adjacent to the front entrance.
Beverage Policy:
Revolution Live offers a full bar including bottled & draft beer, soft drinks, and water. Alcohol is restricted to anyone over the age of 21+ with a valid form of identification. Our policy is to request ID from any customer who appears to be under the age of 35 years old. We have the right to, and will, refuse entry and/or drink to any customer who cannot produce a valid form of identification.
Acceptable IDs:
• Valid current drivers license issued by the State of Florida or any other state.
• Valid photo identification card issued by the State of Florida or any other state.
• Armed Forces Identification.
• Valid U.S. Passport or travel visa/passport issued by a foreign country containing the holder's photograph.
Re-Entry Policy:
Revolution Live does not allow re-entry.
Parking:
Parking is available in privately owned lots surrounding the venue, and in metered spaces on SW 3rd Ave and SW 2nd Ave. Public parking garages are also located nearby on SW 2nd Street.
Prohibited Items Policy: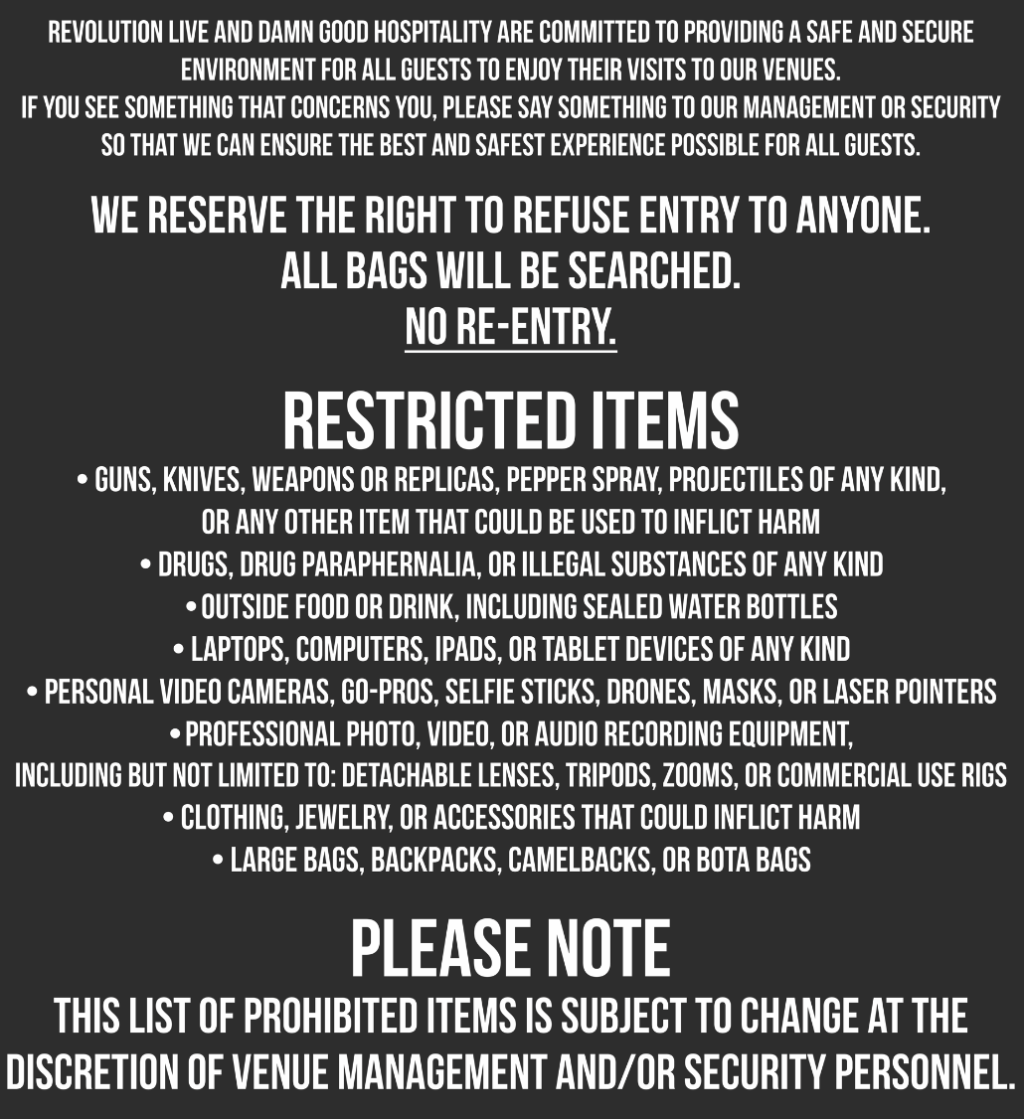 Didn't get your answer?
Please email info@jointherevolution.net with additional questions or concerns.
Want to perform at Revolution Live?
Please complete the following artist submission link for consideration. Once completed, we will contact you if an opportunity arises; please do not call with performance requests.