Esera Tuaolo's 3rd Annual Inclusion Party
Wednesday,
January
29,
2020
Doors: 7:00PM
$35 // $50
Parties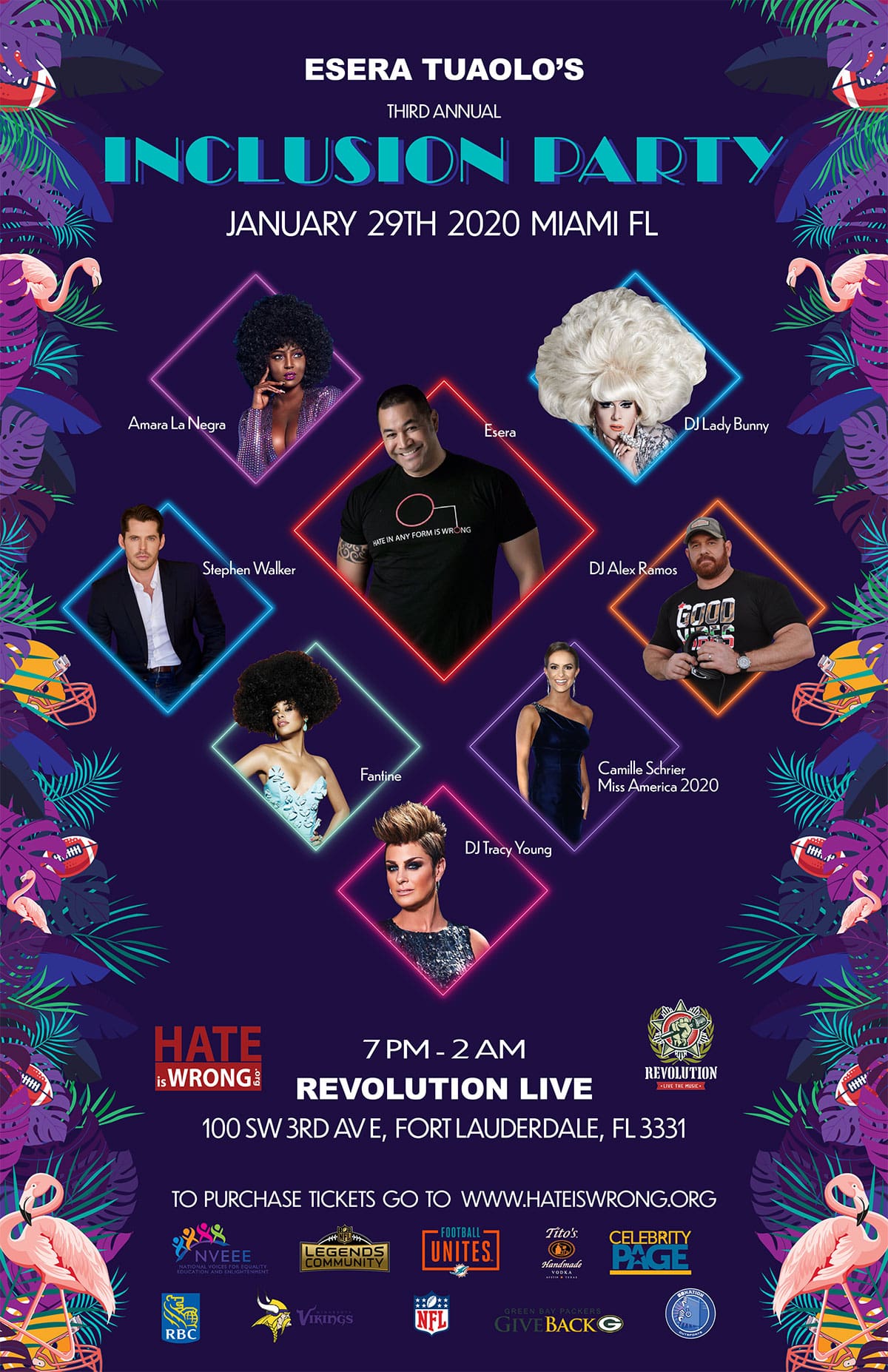 Hate Is Wrong, the owner and producer of the Super Bowl Inclusion Party, is a 501(c)(3) non-profit organization whose purpose is to foster diversity in sports and anti-bullying among youth.
The Inclusion Party has three objectives. First, it seeks to eliminate the above explicit and implicit bias by bringing the NFL and the LGBT communities closer together. Second, the party will support the idea that inclusion comes from changing the whole NFL environment, not just relying on gay or bisexual players to do all the work. The party will bring together people of all identities—coaches, players, team owners, fans, and the like of all sexualities and genders—to publicly show support for inclusion. As the party grows in size and popularity, the change in and around the NFL and the sports world will, too. Finally, the party seeks to cultivate a hate-free zone on which LGBT athletes can rely, whether closeted or open with their sexuality. Players will have a whole organization and many readily identifiable allies for support.
The money raised through the party is donated to diversity centers and anti-bullying organizations within the host city. The Super Bowl Inclusion Party, then, is a traveling campaign of fundraising inclusion, moving yearly to each city hosting the Super Bowl and raising for inclusion-based organizations within that city much-needed financial and networking support.
Special guest: Miss American 2020 Camille Schrier, Amara Le Negra (love and hip hop Miami) ,Tracey Young (Madonna DJ nominated for a Grammy), Fantine (Australia), DJ Alex Ramos (Miami), DJ Lady Bunny (International LGBTQ ICON)
Win…At the Hate is Wrong Inclusion Party. Raffle raffle ticket sales go to our FL charities. Top prize is a pair of Super Bowl tickets. Other prizes include Aaron Roger and Tom Brady Jerseys and many other awesome items.Must be present to win. Visit hateiswrong.org for more information and to buy tickets.
*** THIS EVENT IS 21+***
Location
Revolution Live
100 SW 3rd Ave.
Fort Lauderdale
FL
33312