The Hives
With The Mystery Lights
Tuesday,
October
19,
2021
Doors: 7:00 PM
$28 | $30
All Ages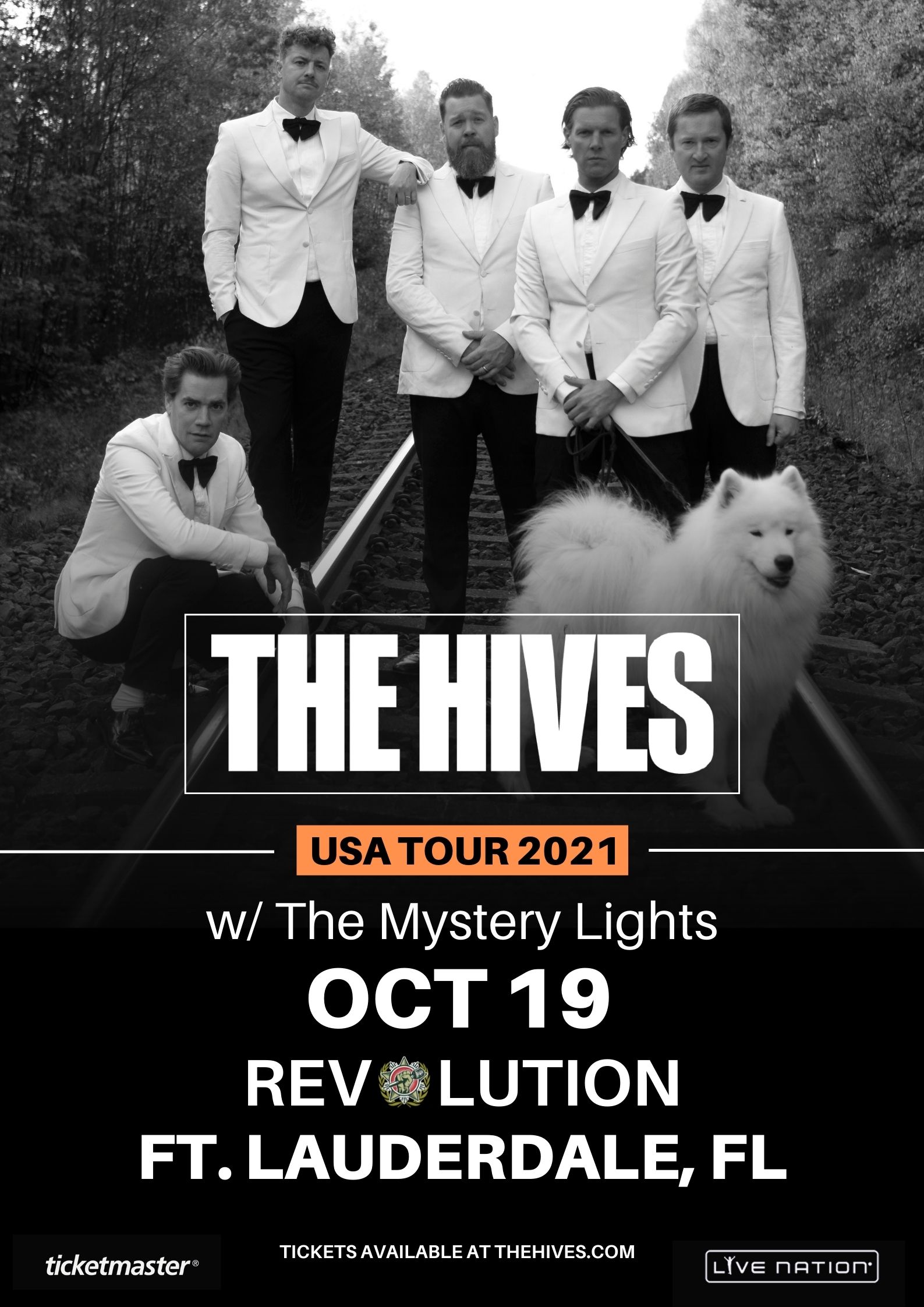 It was nearly twenty years ago that those dashing, dangerous Swedes The Hives unleashed their debut album, 'Barely Legal,' and set the music world on its head. In the two decades since, the unlikely black-and-white rock-and-roll heroes have filled the mantels of Hive Manor with countless awards, sold millions of records, and blown even more minds with a superhuman live show that shakes the halls of Heaven and rattles the bowels of Hell. Front man Howlin' Pelle Almqvist would like you to believe this was all part of the plan from Day One, but the truth is a little more complicated.
"As a kid, I used to have this feeling that you shouldn't be in a band for more than three records," Almqvist says with a laugh. "I didn't think any band had made more than three good records consecutively, but I've changed my mind now."
With its singular blend of punk snarl, brash bravado, and absurd humor, 'Barely Legal' served as the perfect introduction to the intoxicating rush of blood to the head that is The Hives (Almqvist on vocals, Nicholaus Arson and Vigilante Carlstroem on guitars, Dr. Matt Destruction on bass, and Chris Dangerous on drums). But it wasn't until they released their masterful 2000 follow-up, 'Veni Vidi Vicious,' that the band truly exploded around the world. On the strength of hits like "Hate To Say I Told You So" and "Main Offender," the album went Gold in Sweden and catapulted The Hives to the forefront of the international garage rock revival alongside peers like The Strokes and The White Stripes. Rolling Stone would go on to name 'Veni Vidi Vicious' one of the Top 100 Albums of the Decade, and its UK companion (a compilation album featuring tracks from their early EPs and first two LPs entitled 'Your New Favourite Band') cracked the Top 10 and ultimately went Platinum. They made the rounds on late night TV in the US and Europe and laid waste to festivals on both continents, cementing their status as the greatest live band in the world and leaving behind a sea of lesser rock and roll mortals and exhausted fans in their wake.
"When we go out onstage, we're hoping to achieve some sort of ecstasy, to produce a prolonged hour-and-half-long orgasm," Almqvist wryly explains. "We want to create a hurricane of talent and narcissism combined, in which we and the crowd both love us and hate us at the same. So, we have our work cut out."
It's work that Almqvist and the band were born to do, holding their own on stages with the likes of the Rolling Stones and The Sonics, leveling stadiums and amphitheaters around the world with just few chords and a swinging mic. The Telegraph has said, "Nobody can rival the Hives' front man for sheer charisma," while SPIN called him "one of the greatest front men in rock," and the BBC dubbed the band "a force of nature." The Hollywood Reporter similarly gushed that Almqvist "commands—no, demands—full attention from his audience," and The National Post raved that "Almqvist's onstage persona is nothing short of a firecracker," adding that "his fellow Hives are no exception — each one seems to have been born a stage performer and became rock stars as an afterthought."
The pressure was on after the band's breakout success, though, and The Hives took their time before resurfacing with 2004's 'Tyrannosaurus Hives,' which replaced the raw, ragged looseness of 'Veni Vidi Vicious' with a militaristic precision. It earned them their first Gold album in the US, five Swedish Grammis, and more rave reviews everywhere from Rolling Stone to Mojo.
Rather than throw in the towel after three albums, though, they took a left turn on 2007's 'The Black And White Album,' recording outside of Sweden with new producers for the first time, including Pharrell Williams and Dennis Herring (Elvis Costello, Modest Mouse). Lead single "Tick Tick Boom" was an instant smash, cracking the Top 40 in the US and appearing in slew of films, trailers, television shows, video games, and sporting events. They toured even more mercilessly than ever before, conquering new lands like South America along the way and asserting in no uncertain terms that The Hives intended to make not just three, not just four, but more consecutive great records than any band to come before them.
Five years later, they delivered with 'Lex Hives,' their first self-produced album and first release on their own new Disques Hives imprint. The NME called it "amazing," Q praised that it "fizzes with the energy of a debut album," and The Independent hailed it as "high energy, hugely energetic guitar rock." The 'Lex Hives' tour whipped fans into a frenzy, as the band tested the limits of time and space with a relentless schedule that brought their dynamite-loaded freight train of a live show barreling into cities old and new around the world. They headed down under next to tour Australia at the request of AC/DC (The Huffington Post described the invite from the rock legends as a "bold move," considering that The Hives are "a band who could potentially blow them off the stage without much effort"). The shows were a 180 from their US arena tour with Pink, where Rolling Stone caught them "mixing explosive anthems from the last dozen years with high-strung tunes from their new album" and "confronting the headliner's pop music fans with a euphoric blast of garage rock and supreme overconfidence." Or in other words, just being The Hives.
But what's next for the boys in black-and-white? What mountains remain to be climbed, what lands are yet to be conquered? Will we ever hear from them again? Maybe. For The Hives, it's all or nothing, perfection or silence, make their greatest album yet or die trying.
"Something's brewing in Hive Manor," Almqvist cryptically promises. "We'll see if it makes the whole house explode and The Hives disappear forever, or if we can actually create something wonderful and magical and come back to everybody, because we know that's what they want."