Bad Suns
With LIILY & Ultra Q
Tuesday,
October
1,
2019
Doors: 7:00PM
$20.50 // $23
All Ages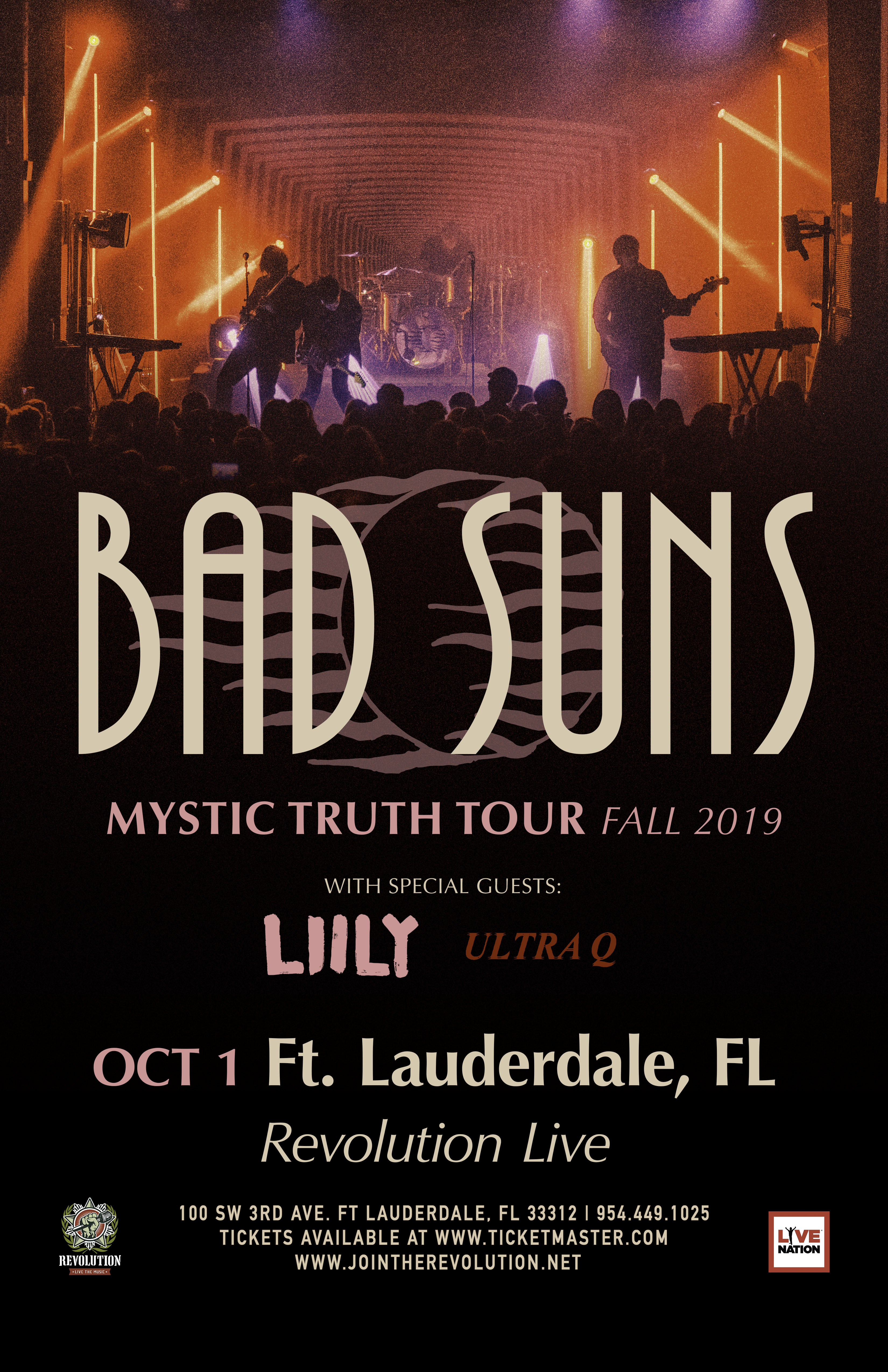 The third full-length from L.A. band Bad Suns, Mystic Truth gets its title from a piece of art that vocalist Christo Bowman stumbled upon while visiting London's Tate Modern on tour. Created by Bruce Nauman in 1967, the neon-and-glass piece spells out a possibly paradoxical statement in blue spiraled cursive: "The True Artist Helps the World by Revealing Mystic Truths."
"I thought that connected back to the message of the record, which is about finding the extraordinary in very simple things, even though we're living in a very dark time right now," says Bowman, whose bandmates include guitarist Ray Libby, bassist Gavin Bennett, and drummer Miles Morris. "Instead of succumbing to that darkness, I think you've got to try to hold onto some optimism, and try to uncover those simple miracles so you don't lose the plot of what's really important."
Produced by Dave Sardy (The Head and the Heart, The Black Angels, Oasis), Mystic Truth channels that searching quality into songs with a powerful sense of purpose. In creating the album, Bad Suns recorded at the legendary Sunset Sound and at Sardy's home studio, building on the melodic brilliance first glimpsed on their debut album Language & Perspective—a 2014 release that hit #24 on the Billboard 200 and led to massive tours supporting Halsey and The Neighbourhood. At the same time, the band amps up the intensity of their 2016 sophomore effort Disappear Here (praised as their "most dynamic and introspective work yet" by Alternative Press), giving way to a more emotionally urgent merging of rock & roll, post-punk, and pop.
Location
Revolution Live
100 SW 3rd Ave.
Fort Lauderdale
FL
33312