BLACK MARKET FEST 2021
Saturday,
November
13,
2021
Doors: 7:00PM
$$15 | $20
All Ages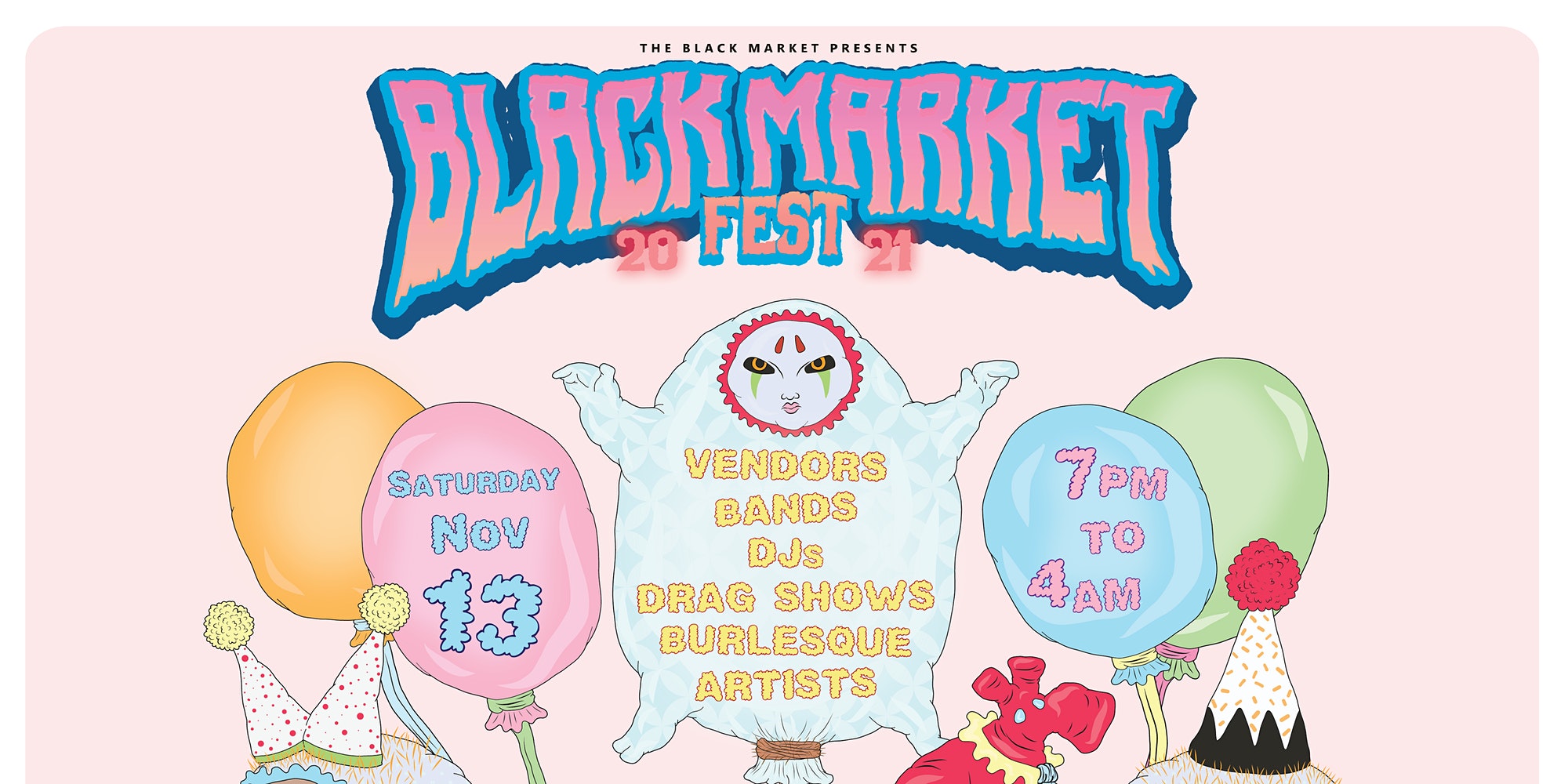 BLACK MARKET FEST 2021
Revolution Live & Stache – Ft. Lauderdale
Black Market Fest is a Celebration for The Black Market's 4 Year Anniversary!
The Black Market is an alternative flea market featuring local vendors selling handmade arts & crafts, vintage clothes, jewelry, bath & body, vinyl records, home decor, collectibles and oddities. There is also a diverse lineup of bands, DJs, drag shows, burlesque and artists creating the perfect party taking place inside Revolution Live & Stache! This year we have curated an eclectic group of performers guaranteed for a good time!
PERFORMING LIVE ON 2 STAGES:
AFROBETA
GALACTIC EFFECT
ROXX REVOLT AND THE VELVETS (FT. MYERS)
TIMOTHY EERIE (ORL)
SONIC GRAFFITI (ST. PETE)
HOLLY HUNT
AUDIO CRISIS
REAL PEOPLE
SEIZURE MACHINE
THE BOAS
THE CREATURE CAGE
THE CURLIES & AMBORIJANI
ZEROSUM
NUYA
AKTAS LUNA
FLIPP_ER
LONE WOLF OMB
DJ RIPPIN KITTIN
DJ SWEETSWIRL
DRAG SHOWS FROM: DANG HO YU SICKNING / LANA SUMMERS / DASHA SWEETWATERS / JELLIKA BOOM
MX MANGO BURLESQUE WITH: SIN SILVA / FRECKLES GALORE / SOFIA LUNA / VAL VAMPYRE
HOSTED BY YOKO OSO & SHELLEY NOVAK
PRESALE TICKETS WILL BE AVAILABLE UNTIL NOV.12
$15-over 21 | $20-under 21
TICKETS WILL ALSO BE SOLD AT THE DOOR OF THE EVENT AT A HIGHER COST
PARKING – is available in privately owned lots surrounding the venue, and in metered spaces on SW 3rd Ave and SW 2nd Ave. Public parking garages are also located nearby on SW 2nd Street.
Date + Time
Date(s) - November 13, 2021 to November 14, 2021
Time(s) - 7:00pm to 4:00am
Add to your iCal calendar
Add to your Google calendar
Map Unavailable