Circle Jerks and Descendents
Saturday,
March
30,
2024
Doors: 7:00 PM
$39.50 // $45
All Ages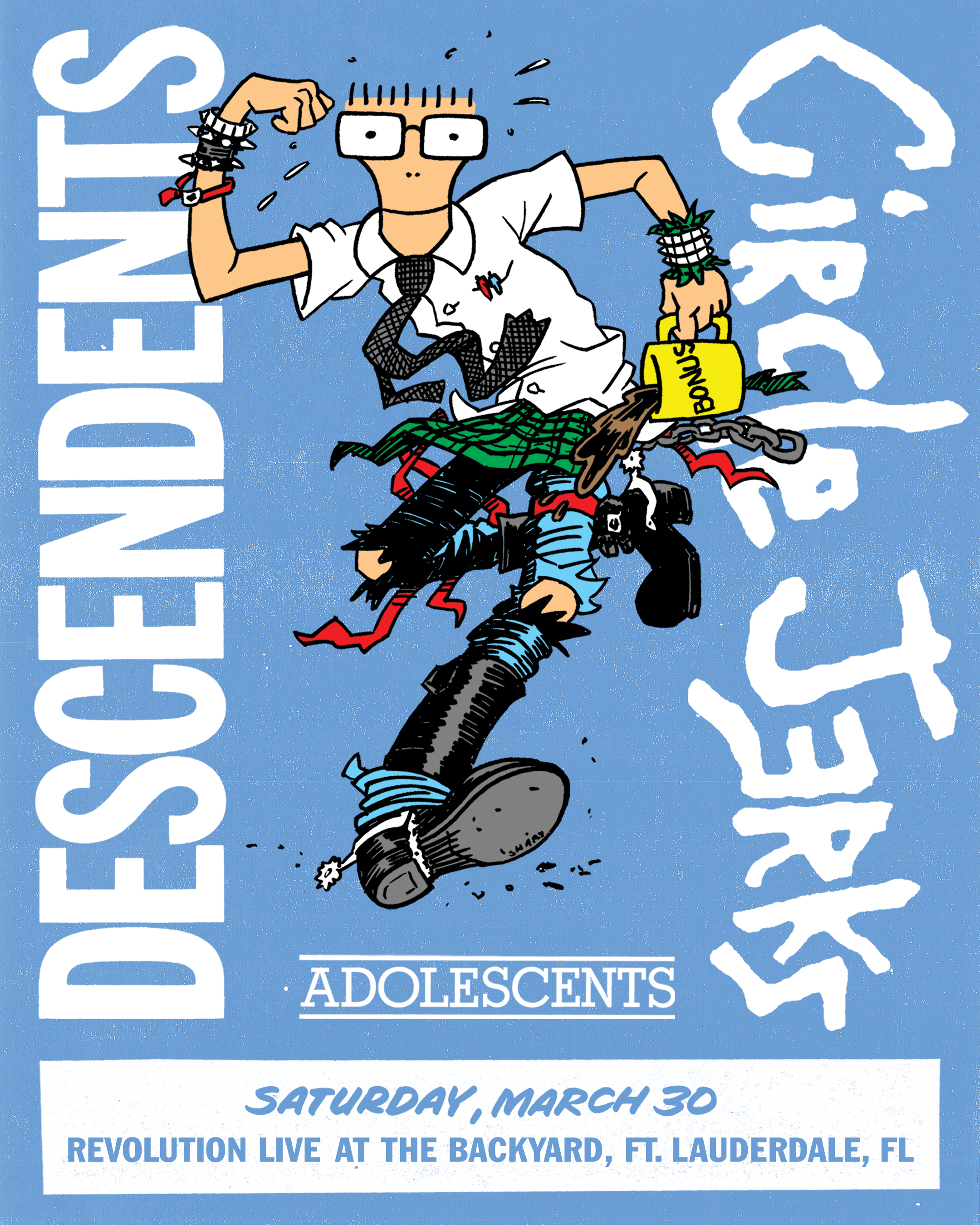 Circle Jerks emerged from the punk underbelly of LA's South Bay in 1979. After serving as a co-founder  and lead vocalist of Black Flag during the recording of its essential Nervous Breakdown EP, Keith  Morris joined forces with former Redd Kross guitarist Greg Hetson to form what would become Circle  Jerks. Unlike much of the unapologetic hardcore that seeped through the cracks of American suburbia,  the music of the Circle Jerks was thoughtfully steadfast, yet relentless and ferocious in nature. Bringing  together a potent, articulate rhythm section with earnest yet oftentimes derisive lyrics and themes, the  band was thereafter heralded as a leader of the pack – and a force to be reckoned with. Plowing forward  with a relentless, tooth-cutting work ethic and a rousing stage presence, the band would soon find itself  headlining shows at LA's 5,000-capacity Olympic Auditorium and emblazoned in cult video classics  like Decline of Western Civilization, Repo Man, New Wave Theatre, and The Slog Movie. Over the  decades, Circle Jerks would release six studio albums, including the acclaimed Group Sex (1980) Wild  in the Streets (1982), Golden Shower of Hits (1983), Wonderful (1985), and IV (1987), where they  would become a major headliner during the alternative music explosion of the 80's and 90's. Morris and  Hetson remain the only consistent members since the band's creation. Bassist Zander Schloss (The  Weirdos, Joe Strummer) has been a member since the 1980's. During hiatuses, Morris fronted bands  like OFF! and FLAG, while Hetson played guitar in Bad Religion. 
The long list of those influenced by the legacy of the Circle Jerks ranges from Butthole Surfers to Red  Hot Chili Peppers – with notable fans being Dogtown skateboarders, Chuck Berry, Alice Cooper, Elton  John, Johnny Depp, Guns N' Roses, and Philip K. Dick. Decades later, their music continues to make  an imprint on generations of diverse music fans and those who challenge the status quo. 
In celebration of the band's 40th anniversary and the commemorative reissue of their celebrated  landmark record Group Sex, Circle Jerks return to the stage for the first time in over a decade.
Since first emerging from (and defining) the Southern California pop-punk scene in 1978, the legendary Descendents have released classic after classic, from their landmark 1982 LP Milo Goes to College to 2016's Hypercaffium Spazzinate. Now, after issuing a flurry of singles to get fans through the past few years, the band — Milo Aukerman (vocals), Bill Stevenson (drums), Stephen Egerton (guitar), and Karl Alvarez (bass) — will be touring in support of a new album. With a very cool twist.
What started with Milo Goes to College now comes full circle on the blistering 9th & Walnut (Epitaph), a "lost album" quietly recorded in 2002 by the MGTC lineup of Stevenson, Aukerman, Tony Lombardo on bass, and Frank Navetta (d. 2008) on guitar. Audiences should be geared up for shows featuring songs spanning Descendents' incredible career, from "Suburban Home" and "Silly Girl" to "I'm the One" and "Without Love," and including 9th & Walnut tracks like first single "Baby Doncha Know" and its incendiary follow-up, "Nightage."
Location
Revolution Live
100 SW 3rd Ave.
Fort Lauderdale
FL
33312