Motionless In White & Beartooth
With Stick To Your Guns & Limbs
Thursday,
January
30,
2020
Doors: 6:00 PM
$30 // $33
All Ages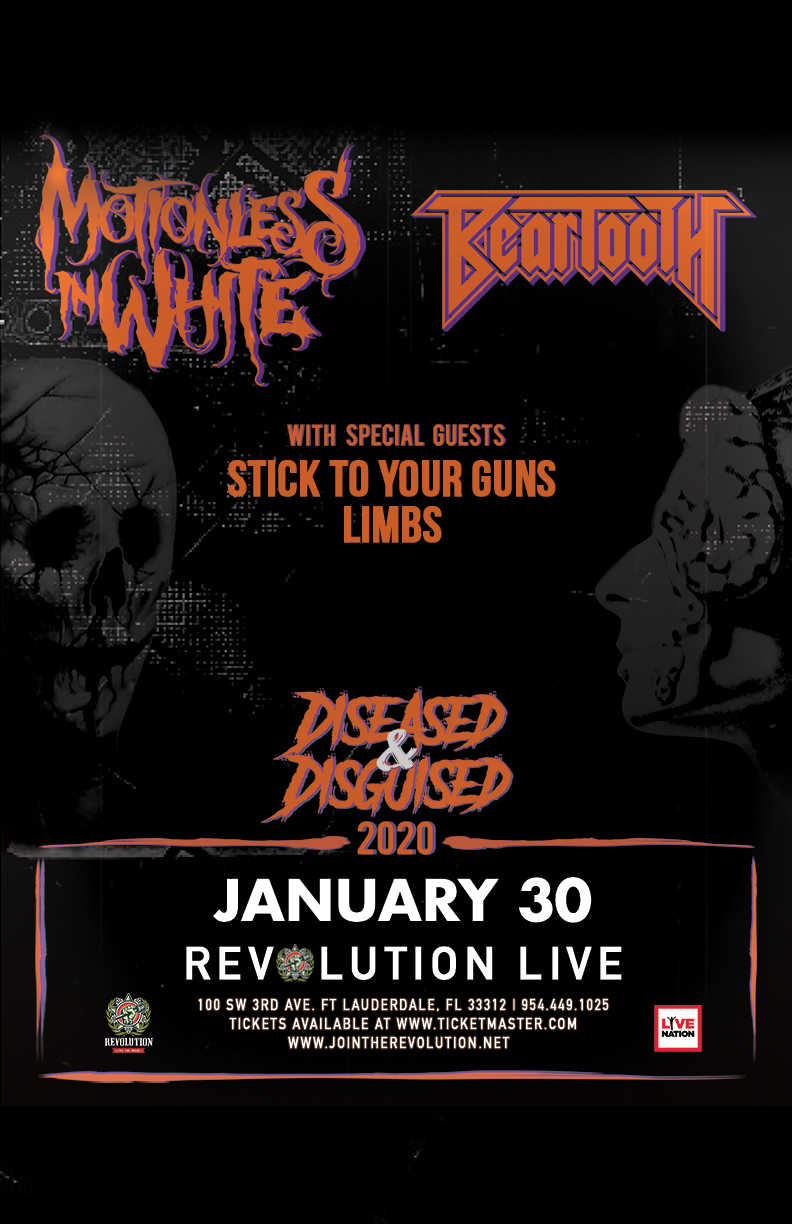 We show the world what we want the world to see. Expressions enshroud our emotions. Countenances conceal our concessions. As a result, truth only slips out in slivers and shards. Motionless In White withdraw any and all veils on their fifth full-length album, Disguise[Roadrunner Records]. The Scranton, PA quintet—Chris Motionless [Vocals], Ricky Horror [Guitar], Ryan Sitkowski [guitar], Vinny Mauro [drums], and Justin Morrow [bass]—hold nothing back.
Unencumbered and unfettered, the musicians uncover their heaviest and most hypnotic body of work to date.
"We really aimed to write a serious record and wear our hearts on our sleeves," exclaims Chris. "I don't talk about things online or in public. Instead, I use our lyrics as a way to express what's going on in my life and my feelings. Things have been great for us on the exterior, but there's so much we had to work through together and personally behind-the-scenes. Everything comes out on Disguise. I tried to give fans a look behind the mask and let them know what I'm dealing with on the inside as well as what they know of me on the outside."
Listeners initially fell under the band's spell in 2006. A pair of albums—Creatures[2010] and Infamous[2012]—sent shockwaves throughout the culture with a combination of big screen-worthy imagery and incisive song craft. 2014's Reincarnate crashed the Top 10 of the BillboardTop 200 at #9 and clutched #1 on the Top Rock Albums Chart. The title track emerged as a signature staple, going Top 20 on Active Rock and racking up over 20 million Spotify streams.
2017 saw Graveyard Shift accelerate their ascension. Not only did it claim real estate in the Top 30 of the Top 200, but it also produced a string of undeniable anthems. Tallying over 60 million cumulative Spotify streams, "Eternally Yours" crossed the 15-million-mark as "570," "Loud (Fuck It)," "Voices," and "Necessary Evil" [feat. Jonathan Davis] all broke 8 million. Alternative Press named the video for the latter "one of the best music videos of 2017." Additionally, Alternative Press bestowed an A-score on the record and described it as the "best representation of Motionless In White." Further critical acclaim came from Kerrang!, Rock Sound, MetalInjection, and many more. As a live force, the band packed venues for headline tours and supported the likes of Slipknot, Korn, Breaking Benjamin, and Marilyn Manson, to name a few.
In 2018, Motionless In White commenced writing for what would become Disguise. During November, they entered a Los Angeles studio with producer Drew Fulk [Lil Peep, Bullet For My Valentine]. By the start
of recording, they had amassed a wealth of ideas to build from. It marked the first time they reteamed with a producer on two successive records and the first time they had accumulated so much material.
Even as they "gravitated towards heavier and darker songs," Chris points to a newfound level of confidence bolstered by the enthusiasm of crowds everywhere."Fans really responded to Graveyard Shift's 'Voices'," the front mangoes on. "I try to listen to what they like and what they don't like. I recognized a common thread where they really love lyrics that represent personal struggles and triumphs. They clung to this one in particular, so it made me more comfortable with opening up about myself."
The
first single and title track "Disguise" allows him to do so. An eerie music box sets an ominous tone before gothic electronics entwine with thick distortion. The singer's voice slips from haunting intonation on the bridge into a cacophonous scream before a sweeping refrain punctuated by promises such as "You will not put out the fire that burns within."
" 'Disguise' really speaks to the common theme," he admits. "It's about my life, struggles, view on the world, what music does for me, and the connection we share between ourselves and fans. I'm letting everyone in.I'm dealing with a lot in my head. I often felt like I had to bottle up my emotions. It was like I was wearing a mask or a disguise. I don't want to put the mask on to please others anymore."
Meanwhile, "Brand New Numb"pairs raucous riffing and a danceable backbeat with a clarion call chant. An undead rocker, it climaxes on a dedication, "This one's for the underdogs!"
"It's one of the more fun tunes," he goes on. "It's dedicated to our fans and upholds a message of individuality and being oneself. The song represents that side of us and not worrying about what anyone thinks. It's a little less aggressive and way more of an upbeat and good energy."
Elsewhere, a screech of synths snaps into a guttural groove on "Code," which "shows how music is the universal language and even strangers can mutually bond over it." The trudging drums of "Legacy" underscore an uplifting and undeniable message for Chris.
"You're climbing the mountain and jumping hurdles on your personal journey," he elaborates. "We're a lot better off as a band, but we're still on this road. It speaks to the energy of moving forward, climbing higher, and not letting life's obstacles get you down. You're beating everything in your way. It's a really relevant story to Motionless In White."
In the end, this story gets more powerful as it becomes more personal.
"It's the same message," he leaves off.
"I hope fans know there is a band out there who is fighting every day to represent the underdogs. We love being a part of their lives. To have audiences take something from what we do and it be genuine is all we ever asked for. I want to do what music did for me. I'm proud to say it feels like we have. Now, I just don't want to ever stop.
Location
Revolution Live
100 SW 3rd Ave.
Fort Lauderdale
FL
33312