Nahko And Medicine For The People
With Nattali Rize
Wednesday,
October
9,
2019
Doors: 7:00PM
$32.50 // $37.50
All Ages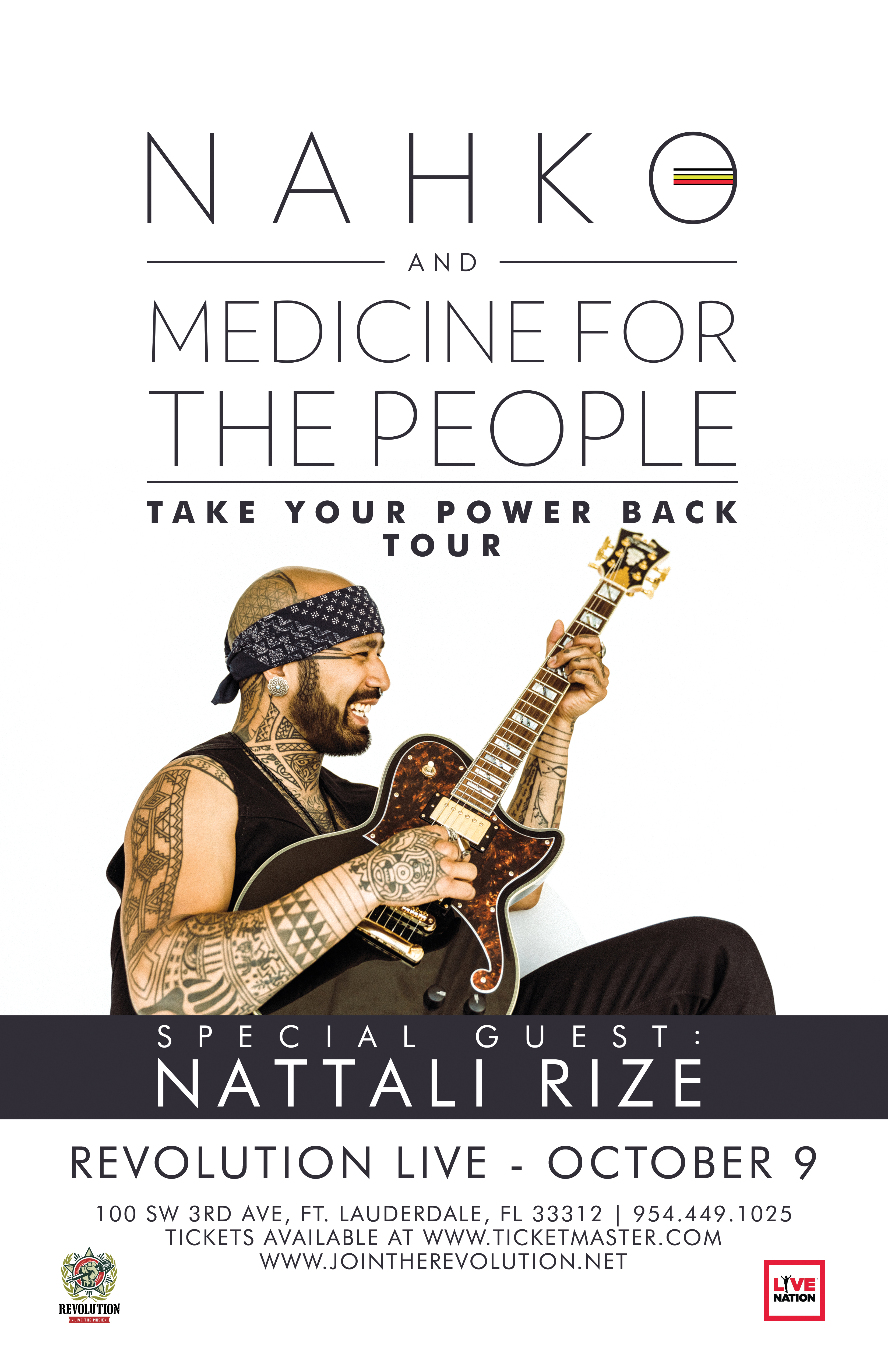 "As storytellers, we turn the experience into something shared. We are taking to that great road again to bring our medicine to you. Naming this tour the 'Take Your Power Back Tour' felt entirely appropriate given the state of the planet and all Her creatures great and small. Women of wonder and potent poetry will join us on that fall road. Ayla Nereo brings her big medicine to half of this tour and Nattali Rize brings her big power to the other half. We can already feel the high vibe container, a congregation cultivating a safe space for transmission and reconciliation. Tears and laughter. Movement and medicine. Arrive at our gathering this fall with whatever shape your heart is in. Full, broken, in pieces, strong, hopeful, hurting, overflowing, all of it. We'll help best we can. It's us. Together. We'll see you there, familia." – Nahko
Nahko And Medicine For The People continue to gather dedicated members of their global Medicine Tribe of likeminded fans as they spread their positive and powerful musical message around the nation on their Take Your Power Back headline tour this fall. Fans and critics alike praise the group's worldly blend of rock, hip-hop, and alt-folk with OC Weekly calling the group "empowering" and "powerful", while The Huffington Post compared Nahko to Bob Marley and called him a "musical prophet". The October 2017 album 'My Name is Bear' premiered at #1 on iTunes and debuted on a number of Billboard charts, and the headline tour in support of the album boasted multiple sold-out dates throughout the USA and Europe. 'My Name Is Bear' is a 16-track collection that reflects the soul, authenticity, and spirit that Nahko And Medicine For The People's Medicine Tribe has come to know and love. Their previous album 'HOKA', which was released in June 2016, sold over 8,000 units in its first week in the U.S. and debuted at #6 on the Billboard Alternative Albums Chart. The album went on to win Record of the Year at the Native American Music Awards later that year.
Nahko And Medicine For The People are firm believers in using music as a tool of empowerment to protect and preserve all of creation. They aim to inspire others to take a deeper role in protecting and preserving our planet, people, and the spirit in all of creation.
The band is thrilled to release new music in 2019 and continue their world tour this summer in advance of the Take Your Power Back fall headline tour, including stops at Bonnaroo, Glastonbury, Woodstock 50, Lockin' Music Festival and more!
Location
Revolution Live
100 SW 3rd Ave.
Fort Lauderdale
FL
33312