Natural Wonder – The Ultimate Stevie Wonder Experience
Thursday,
February
6,
2020
Doors: 7:00 PM
$16 // $18
All Ages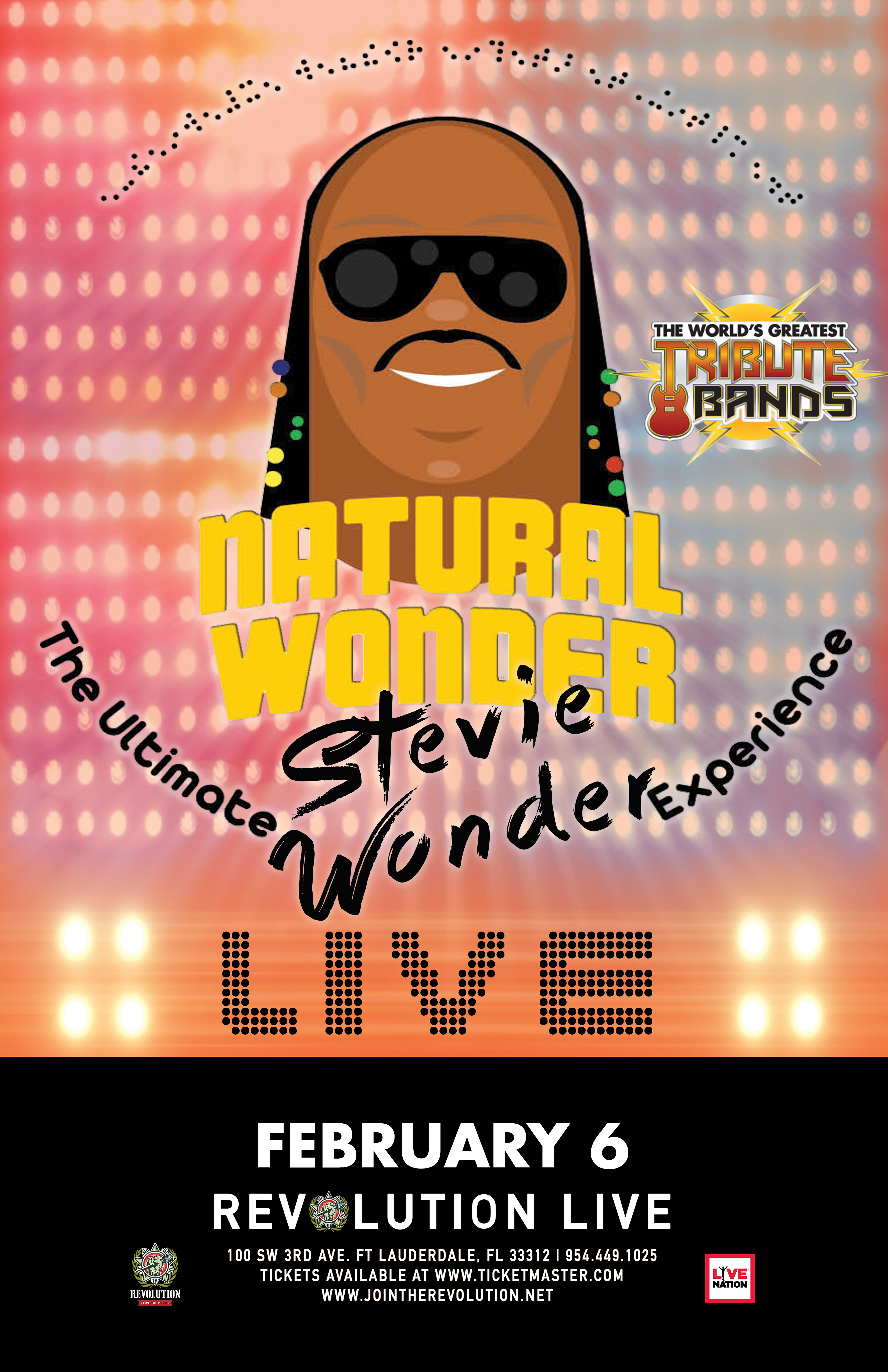 According to the old idiom, imitation is the sincerest form of flattery, but some subjects worthy of flattery are not so easily imitated, and in the age of the tribute band, many a giant of the American songbook goes without authentic tribute simply because the original article set the bar a little too high.
Such seems to be the case with Stevie Wonder, the genius of composition and unparalleled vocal and instrumental ability who, throughout his career, has had the backing of some of the most formidable musicians in the industry. When one considers the colossal talent that is Stevie Wonder–the limitless voice and boundless multi-instrumental skill–it's no mystery as to why there is not one full-fledged Stevie Wonder tribute band working in the American tribute market.
Enter Gabriel Bello and Natural Wonder, the Ultimate Stevie Wonder Experience.
While Stevie Wonder impersonators dot the landscape, backing tracks in hand, Natural Wonder rolls into town with the full band experience complete with a crack rhythm section, full-fledged horn ensemble, and the formidable Gabriel Bello, a Billboard-ranked vocalist and multi-instrumentalist, channeling the energy and artistry that has made Stevie Wonder an icon across decades and genres. Whether it's the Motown-era hits like "Signed, Sealed, Delivered" and "My Cherie Amour," the fusion-flavored 70's platters like "Master Blaster" and "Do I Do," the genius of Songs in the Key of Life, the signature harmonica solo of "Isn't She Lovely," or Stevie's modern masterpieces like "My Love is on Fire," Gabriel Bello and the industry veterans who comprise Natural Wonder recreate the look, feel, and sound of a Stevie set with all the musicianship necessary to blow audiences away with a seemingly unending barrage of hit songs that span the Stevie Wonder catalog.
Since its inception in 2012, Natural Wonder has wowed audiences in numerous festivals, private/corporate events (for clients including the American Heart Association, the Make-A-Wish Foundation, and the Southeastern Jewelers Association), and large venues across the country including The House of Blues (Orlando and Myrtle Beach), B.B. Kings (New York City), The Fillmore (Charlotte, NC), The Downtown Cabaret (Bridgeport, CT), and Speaking Rock Casino, (El Paso, TX) to name only a few.
Make no mistake: Natural Wonder is the Ultimate Stevie Wonder Experience, an epic endeavor that brings real musicianship, a dynamic stage show, and a deep, studious love of the Stevie Wonder legacy to audiences who know that good, authentic music is "a language we all understand."
Location
Revolution Live
100 SW 3rd Ave.
Fort Lauderdale
FL
33312