Peach Pit: Right Down the Street Tour
With The Districts
Wednesday,
October
5,
2022
Doors: 7:00 PM
$29.50 // $32
All Ages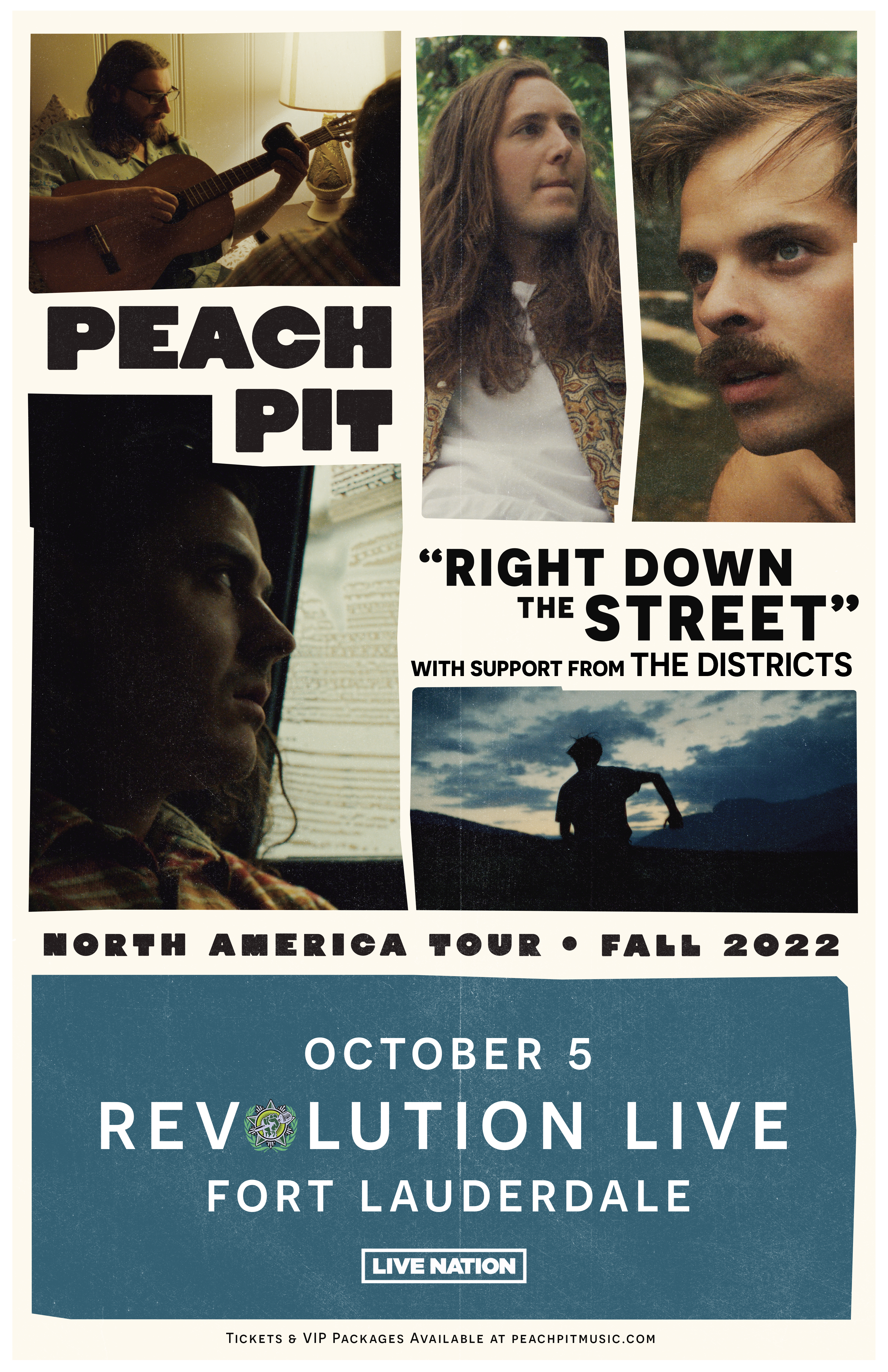 each Pit's songs feel like a close friend telling you a story. The Vancouver quartet—Neil Smith [vocals, guitar], Chris Vanderkooy [guitar], Peter Wilton [bass], and Mikey Pascuzzi [drums]—refined this signature storytelling over a soundtrack of breezy guitars and some ballsy distortion on their sophomore album, You and Your Friends, released April 2020 via Columbia Records.
As legend has it, these high school buddies from North of the Border achieved a major breakthrough in 2016 with their self-titled viral anthem, "Peach Pit." It eventually surpassed 25 million Spotify streams and heralded the Sweet FA EP in 2017, which also includes their hit single "Seventeen." Meanwhile, the band's 2017 full-length debut Being So Normal yielded a string of off-kilter anthems a la "Tommy's Party" [13 million streams], "Alrighty Aphrodite" [11.5 million streams], and "Drop the Guillotine" [8.2 million streams]. Along the way, they have built a cult following in large part due to their stellar live show. Peach Pit has performed everywhere from Bonnaroo, Shaky Knees Music Festival, and CBC Music Festival to Bumbershoot and Capital Hill Block Party in addition to attracting acclaim from Vice, Substream, Exclaim, and more.
2019 saw them hunker down and record alongside GRAMMY® Award-winning producer John Congleton [St. Vincent, Best Coast] over the summer. The first single "Feelin' Low (F*ckboy Blues)" illuminates a shift. Like any good tale, it ends on a twist.
Location
Revolution Live
100 SW 3rd Ave.
Fort Lauderdale
FL
33312