RUEL – 4TH WALL WORLD TOUR – NORTH AMERICA
Wednesday,
June
7,
2023
Doors: 7:00 PM
$30 // $35
All Ages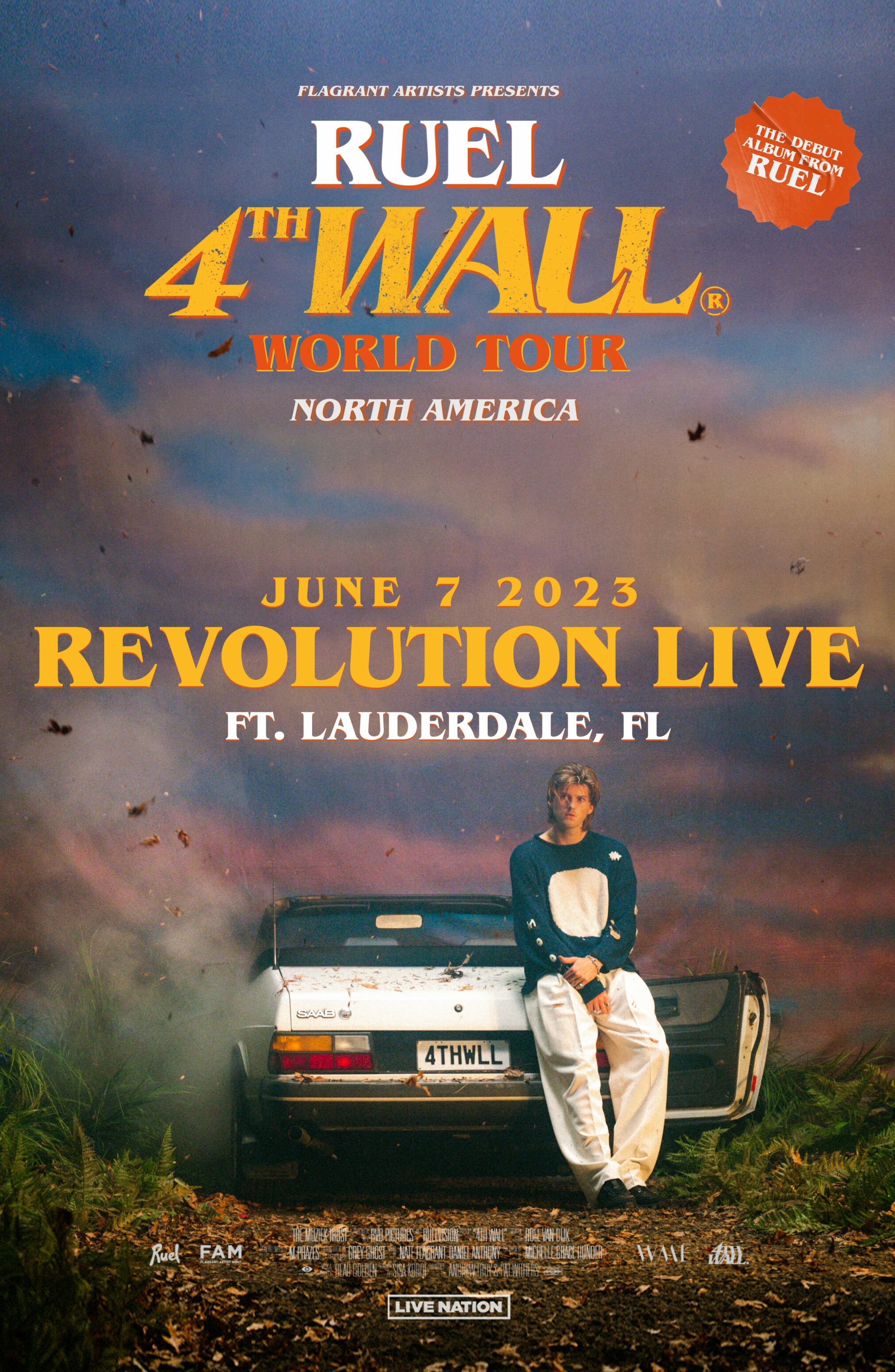 At twenty years of age and now on the cusp of releasing his debut album 4TH WALL via
RCA (ROW) & Sony Music (Australia), Ruel's discovery of self-assurance is perfectly
timed.
The Sydney-bred singer-songwriter speaks confidently about the release's authenticity
"It's exactly the music I wanted to write… what I had in my head. It's me executing my
ideas, instead of trying to execute other people's ideas in my way."
Executively Produced by long-time collaborator M-Phazes (Khalid, Noah Cyrus, Remi
Wolf), 4TH WALL was originally heading down a Pop/R&B lane, however, the pandemic
acted as a major personal and professional conduit for Ruel. His matured identity
galvanized the decision to forge his own creative directive, and played a vital part in
expanding his musical horizons.
Ruel notes "It took way longer than anticipated to get this record right. I spent the last 3
years writing it and wound up with over 100 songs. I rewrote half of them and re-
recorded most of them… It's been the biggest journey making this record…".
These revelations are strikingly obvious in the 4TH WALL singles that Ruel has treated his
audience to, including the dancefloor anthem GROWING UP IS _____, dream-like LET THE
GRASS GROW, the poignant social and personal observations of YOU AGAINST YOURSELF,
and most recently, the beautifully emotive ballad MUST BE NICE.
Since making his debut in 2017 at the age of 14, Ruel has fast become one of his
generation's most influential artists. Sitting with over 2 billion global streams, 1.2 million
Instagram followers, and five Platinum records to his name, Ruel is both a seasoned
global superstar and a record-breaking musician for tomorrow's generation.
Add to this stellar collection of bucket list achievements (that most could only dream
of), Ruel is also the youngest artist ever to win Breakthrough Artist at the ARIA Awards
and the youngest artist to sell out the Sydney Opera House… twice. Not surprisingly,
Ruel has caught the attention of some of the industry's most respected individual's,
including icon Elton John and musical tastemaker Zane Lowe both championing his
career developments.
Along with three sold-out world tours, Ruel has shared stages with Khalid, Shawn
Mendes, played Tyler, the Creator's Camp Flog Gnaw festival, and released
collaborations with Denzel Curry, JVKE, Omar Apollo and Cosmo's Midnight.
Now three EPs deep – READY, FREE TIME and BRIGHT LIGHTS, RED EYES, the time is well
and truly nigh for 4TH WALL to take flight. With an impressive collection of Platinum and
Double Platinum hits including YOUNGER, DAZED & CONFUSED, PAINKILLER, REAL THING
and FACE TO FACE, the release of 4TH WALL will further solidify his position as one of
Australia's most successful artists.
It's safe to say that in just a few short years, Ruel has a biography that is nothing short of
astonishing, and the international press tend to agree. Ruel has now graced the high-
end pages of editorials such as Nylon, Vogue and GQ, and has received written praise
from influential outlets including NME, The Face, famed celebrity and fine art
photographer Rankin's HUNGER TV and Coup De Main.
As his fans hold their collective breath in anticipation for a global tour announcement,
Ruel is ready to reignite his position as one of the world's most exciting artists.
"Okay, time to bring home my sound. I can't wait" – Ruel
Location
Revolution Live
100 SW 3rd Ave.
Fort Lauderdale
FL
33312