Stokeswood
Friday,
July
13,
2018
Doors: 8PM
$12 // $15
All Ages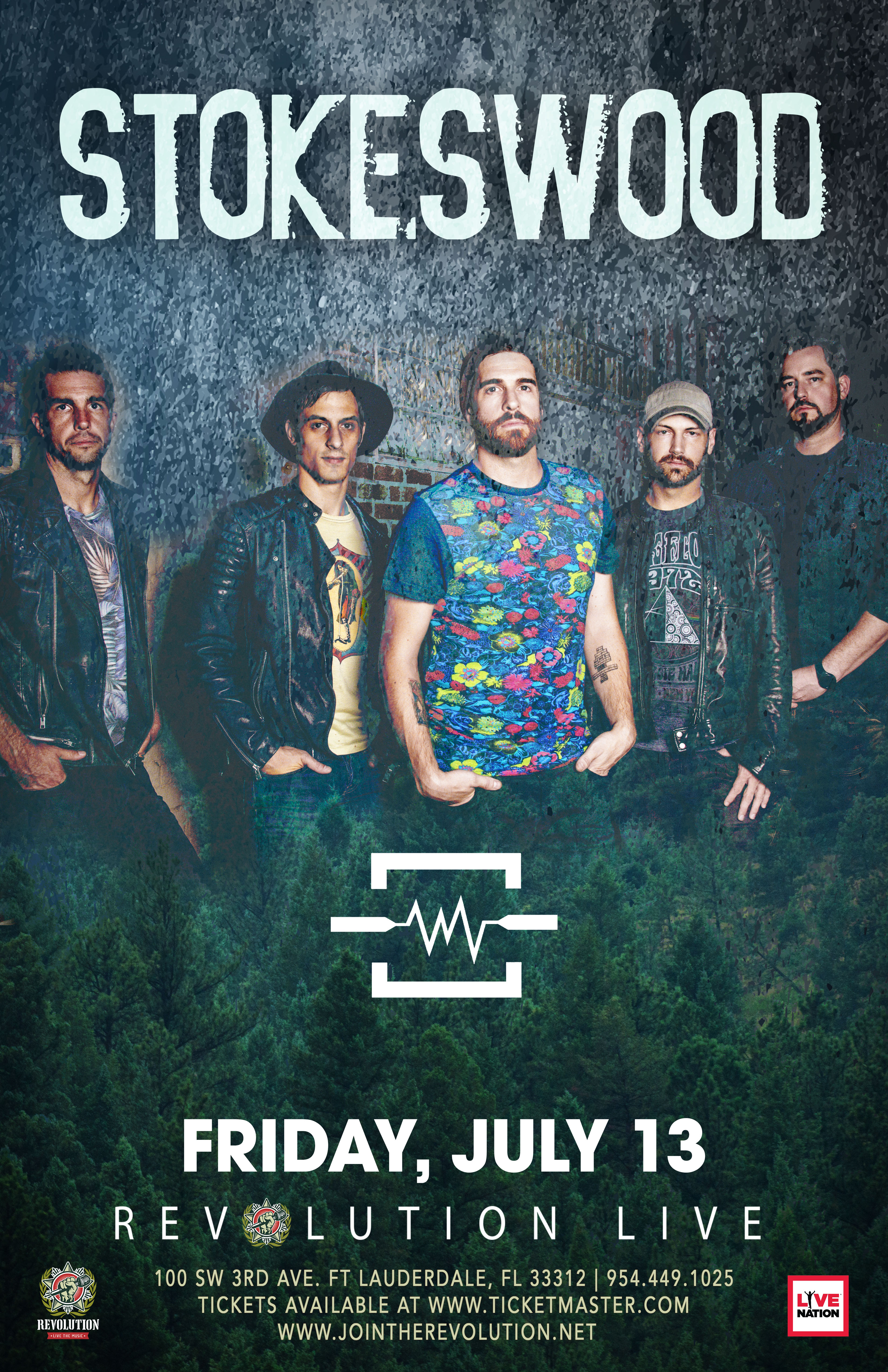 "The five members of Stokeswood woke up one day in a black van with a trailer full of equipment and not one of them knew how they got there," says the Facebook page of the Altanta-based pop outfit. While that lead-in is delivered with a wink, there is a genuine immediacy to Stokeswood. Right at home on the stage and purveyors of a spontaneous party vibe, this band inspires instant fandom and uninhibited dance moves. Really, Sokeswood requires little in the way of introduction
The current lineup includes founding members Adam Patterson (vocals) and Mark Godwin (lead guitar) with Michael Roman (keys), Jon Joiner (drums) and Justin Mullinix (bass and live production). The musi- cians are known to switch instruments between songs — one hint as to their eclecticism and energy — and they eschew limits on influences. From Atlanta's hip-hop beats to indie-rock melodies, "We walk the fine line of so many genres," says Patterson. "We're taking all the parts of what we know and making it a cohe- sive sound." Proof that the formula works: Since releasing its first album in 2009, Stokeswood has been landing pop tracks on radio stations in the Southeast where that genre is often overlooked and jam is king.
The title track to the band's new EP, 2075, is all futuristic thrum, thick with static, driving percussion and swirling high notes. The song nods to both power-pop and the shimmering danceability of new wave. Meanwhile, "Forget" — at once anthemic and heart-on-sleeve — pulses with choppy beats and swooping melodies. "Please go on and stop me if my tongue's too rough / and interrupt me if I talk too much / I nev- er wanted that for us," Patterson sings, his vocal sailing through cool crests of synthesizer.
Running like a thread throughout Stokeswood's career is an emphasis on a captivating live show — an ap- proach felt consistently on the band's albums, too. This holds true on 2075, where the track "Current" pairs palpable ache with fast strums and rhythmic pummel. "Bloody History" is a sparring match. Swift and lithe, the song sounds heavy but bounces through power chords and muscular beats, never weighted down by its own fierce attitude. Here, as on rest of the EP, sounds are expertly layered to maximize textures and sonic impact. These are songs that earn their place on the dance floor as well as on that most personal of gestures: the mix tape.
On 2075's final track, "Stop By," the lyric asserts, "Stop by, come on and see me, because I'll be doing fi- ne." It's a song of equal parts anger and seduction — a heady blend set to ricocheting percussion and mel- ody lines that morph into spacey blips and warbles. It launches at a fully caffeinated pace and builds in intensity, though the sense of joy that the musicians take in crafting each note is never out of sight.
Accolades include being named best local rock band by Creative Loafing Atlanta in 2013 and 2014. The publication also honored Stokeswood for best band name — apt, as the group's moniker comes from a well-known thoroughfare where Patterson and Godwin once lived in a haunted house — and best music video for "Our Streets." That the awards are bestowed by Creative Loafing readers, aka Atlanta's music fans, makes them that much more meaningful. It's a sign that even without label backing, Stokeswood is reaching the masses.
And, although all of Stokeswood's members are Atlanta natives, they consider Miami (among with other Florida markets) a home away from home. That city was one of the first to embrace Stokeswood's sound; the group went on to play events such as The Rock Boat, Party in the Park, and Center Point Music Festival. They've opened for Wiz Khalifa and, because the Stokeswood sound nods to such a range of musical categories, they've shared stages with the likes of Sister Hazel, MGMT, Girl Talk, Edward Sharpe and the Magnetic Zeros, Minus the Bear, Skrillex, Bassnectar, Michael Franti and Barenaked Ladies.
Location
Revolution Live
100 SW 3rd Ave.
Fort Lauderdale
FL
33312