The Black Dahlia Murder
Saturday,
June
23,
2018
7:00 PM
$25 // $28
All Ages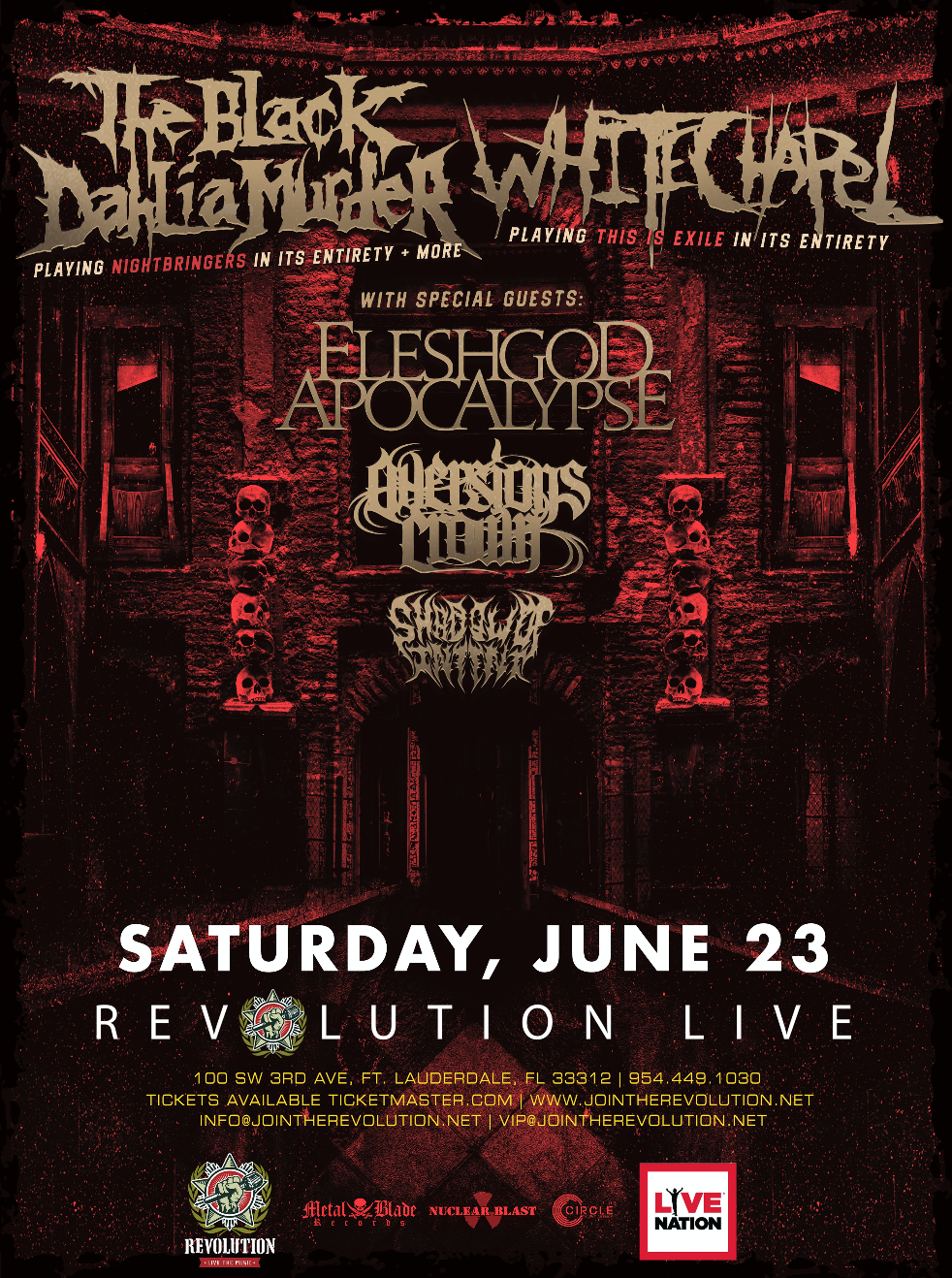 with Whitechapel, Fleshgod Apocalypse, Aversions Crown, Shadow Of Intent
Doors: 7PM
Detroit's the Black Dahlia Murder, named for the infamous 1947 slaying of 22-year-old Elizabeth Short, aka the Black Dahlia, actually sounds like they should live in Scandinavia, where much of the frenetic brand of death and black metal that inspires them originated. Formed in January 2001, the Black Dahlia Murder followed their six-song What a Horrible Night to Have a Curse demo with the four-track A Cold-Blooded Epitaph EP, which was released on their own Lovelost Records. Having already made a number of acclaimed concert appearances (e.g., the Milwaukee Metal Fest), the group — comprising vocalist Trevor Strnad, guitarists Brian Eschbach and Jon Kemppainen, bassist David Lock, and drummer Cory Grady — signed with Metal Blade in 2003 and was soon recording its debut album, Unhallowed. The 2005 release Miasma and 2007's Nocturnal kept death metal as the group's foundation, though the band began exhibiting an increasingly melodic streak that came to fruition on 2009's brutal but majestic Deflorate. The group's fifth studio album, Ritual, arrived in the summer of 2011, followed by Everblack in 2013, which was greeted with almost universal acclaim. After a year touring, the Black Dahlia Murder went back into the studio. They re-enlisted producer Mark Lewis (who worked on 2011's Ritual) and former bass player Ryan Williams, who helped engineer Everblack. They emerged with Abysmal, released in the fall of 2015, and followed it with a grueling schedule of touring for more than a year playing headline and festival support gigs across the United States and Europe. It took its toll. Later in the year, guitarist Ryan Knight amicably left the band, and was replaced by Brandon Ellis (Arsis, ex-Cannibal Corpse). In 2017, TBDM commenced work on a new album with bandmembers working separately in different metro Detroit-area studios with various engineers — including former bassist Williams and Joe Cincotta. In the end, Ellis emerged as an important new songwriter as well as guitarist. The finished album, Nightbringers, was issued in October of 2017 through Metal Blade.
Location
Revolution Live
100 SW 3rd Ave.
Fort Lauderdale
FL
33312