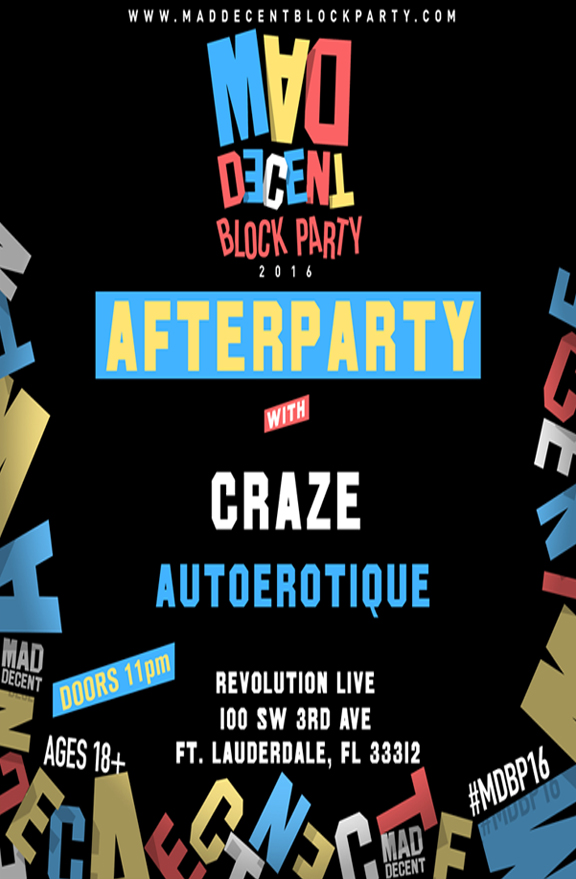 Mad Decent Block Party's After Party featuring Craze and Autoerotique.
This Event is 18+ INSIDE of Revolution Live!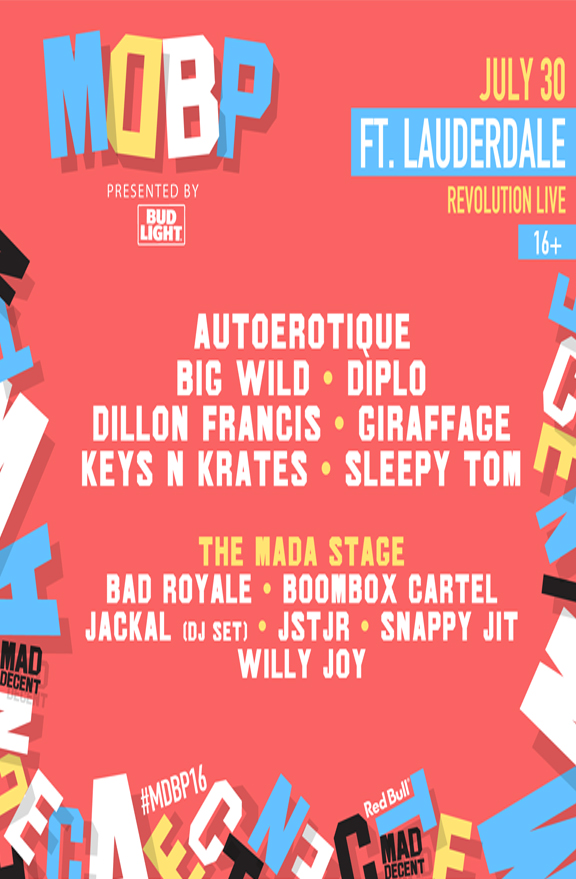 This event it 16+
FAQ
GENERAL MDBP 2016 GUIDELINES. RULES MAY VARY SLIGHTLY AT LOCAL VENUES.
Allowed Items

Small bags, purses, and fanny packs
Factory sealed water bottle
Non-professional cameras
Cell phones
Lighters
Sealed: cigarette packages, tampons, packs of gum, and chapstick/lip gloss
Sunglasses and hats
Liquid sunscreen and cosmetic products (max 3oz/90ml)
Prescription and OTC medications subject to specific conditions (please see special section below)
Guide dogs for people with disabilities and other service animals with current rabies certification

Prohibited Items

Outside food or drink including CamelBak water systems
Glass in any form
Unsealed: cigarette packages, tampons, packs of gum, chapstick/lip gloss
Masks of any kind
Eyedrops
Focus light beam devices, including laser pointers (please see special section below)
LED gloves, LED microlights, etc.
Balloons, balls, Frisbees, and/or any other projectile.
Pacifiers
Kandi bracelets and/or necklaces
Large bags or purses
Stuffed animals or dolls
Electronic or vapor cigarettes
Large bags or backpacks
Totems and/or flagpoles
Marker pens and spray paint
Flyers, stickers, and posters
Flammable products or materials and sprays
Illegal substances of any kind (including medical marijuana)
Drug paraphernalia
Vitamins
Water guns, water balloons, and/or any other kind of water projectile
Tripods, monopods, or selfie sticks.
Any item that can be used as a weapon, including wallet chains
Any item that can be used as a means to disturb the peace, endanger the safety of the crowd, and/or
Inflict damage to people and goods
Fireworks, pyrotechnics, or any other kind of explosive
Single-lens reflex cameras, including digital single-lens reflex cameras (SLR/DSLR)
Pets (except service animals with a current rabies certification)
Large umbrellas

Special Note About Prescription and OTC Medications

Prescription medication are allowed only in the original prescription bottle, any persons attempting to bring in prescription medication must have a government-issued photo identification card that matches the name printed on the prescription, and the pills in the bottle must match the description printed on the prescription. Further, if a person has mixed multiple pills in a single prescription container or if a person is attempting to enter with prescription pills in a non-prescription container, medical representatives should be involved to make the final determination about whether or not such pills are to be allowed in the venue.
Over-the-counter medications are allowed in provided that they are new and the original, factory- sealed container.

Special Note About Focus Light Beam Devices

Focus light beam devices of any kind or type, including laser pointers, are not allowed into MDBP events.
The MDBP Tour requires that security inside the venue be diligent in addressing focus light beam devices that may make it through the searches.
As allowed by local laws, it is requested that security remove or render useless the any focus light beam devices that make it into the venue; should local law prevent the confiscation of batteries and/or the devices themselves, it shall be at the sole discretion of security personnel, in accordance with typical venue policies, as to how focus light beam devices are addressed.

REVOLUTION LIVE ID POLICY

MAD DECENT BLOCK PARTY 

FT. LAUDERDALE, FL 2016

Regarding ID's:
Our policy is to request ID from any customer who appears to be under the age of 30 years old. We have the right to, and will, refuse entry to any customer who cannot produce a valid form of identification.

Acceptable ID's • Valid current drivers license or learners permit issued by the State of Florida or any other state • Valid photo identification card issued by the State of Florida or any other state • Armed Forces Identification • Valid U.S. Passport or travel visa/passport issued by a foreign country containing the holder's photograph.

Unacceptable Forms of Identification for Entry

NO School ID cards
NO Consular ID
NO Birth certificates
NO Photocopies of any ID
NO Expired ID Card
NO License/ID card from countries other than U.S/Canada
NO Social Security Card
NO Voter Registration Card

Anyone who fails to present an Accepted ID upon entry will not be allowed into the Festival. No refunds will be processed for anyone who is denied entry because they did not bring Accepted ID.