Atmosphere
With Dem Atlas, The Lioness, and DJ Keezy
Thursday,
November
29,
2018
Doors: 7PM
$23.50 // $25
All Ages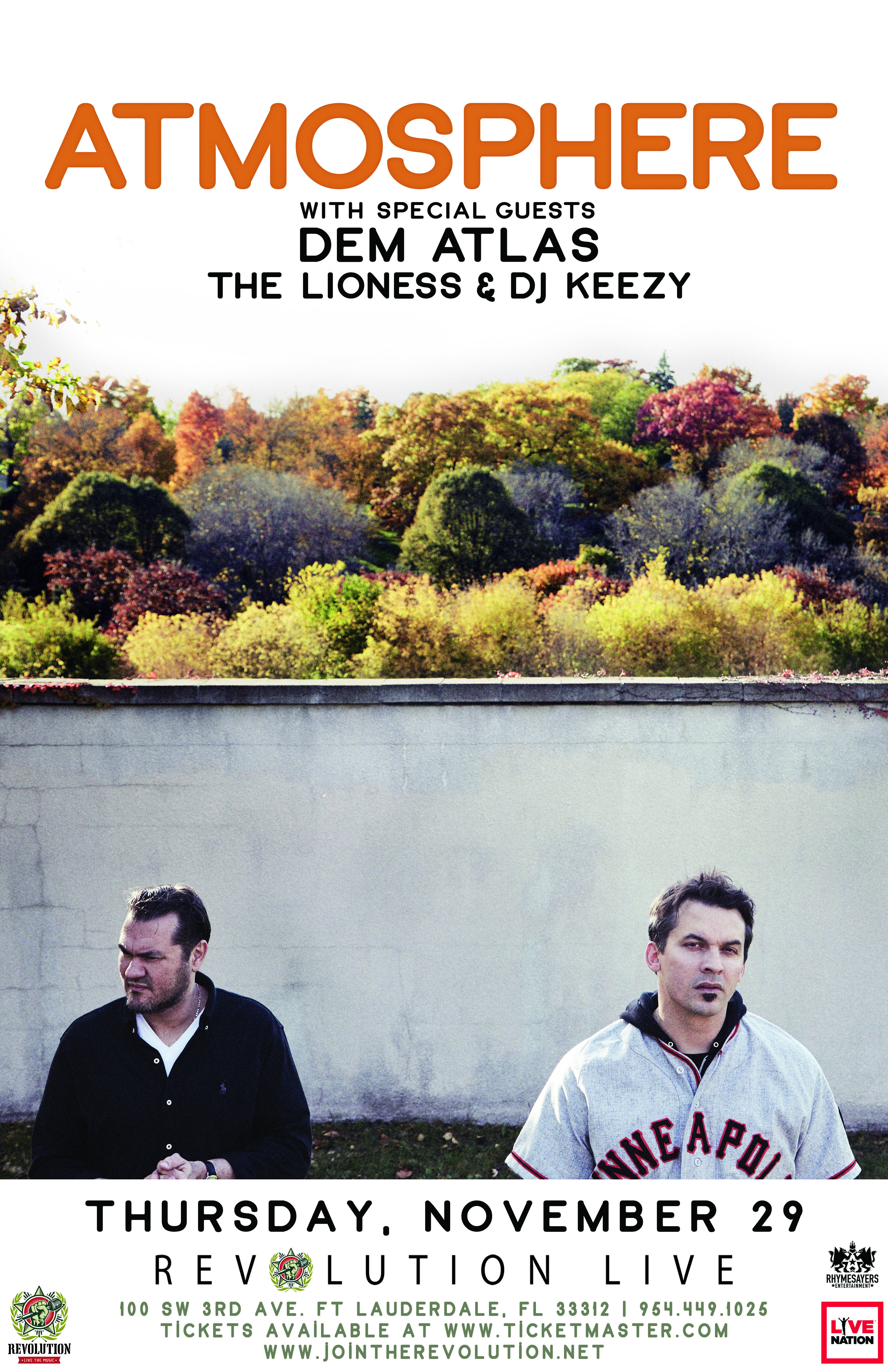 Hip-hop outfit and Rhymesayers label heads Atmosphere represent the Twin Cities with introspective rhymes, inventive storytelling, and classic production, building a devoted grassroots following with prolific output, collaborations, and consistent touring. They debuted as a trio on 1997's Overcast! before continuing into the 2000s as the core duo of rapper Slug and producer Ant. Steadily rising on the charts with each release, the pair hit a peak in 2008 with fifth full-length, When Life Gives You Lemons, You Paint That Shit Gold, which landed at number five upon release. 2014's Southsiders continued their success in the U.S., while marking Atmosphere's debut on the U.K. charts. In 2016, they issued their eighth album, Fishing Blues, their second to top the U.S. indie chart. As co-founders of Rhymesayers, they are also affiliated with a roster of like-minded hip-hop acts and curators of the annual Minneapolis music festival, Soundset.
Over the majority of the duo's career, Atmosphere centered around rapper Slug (born Sean Daley) and Ant (born Anthony Davis). As a teenager, Slug became entranced with hip-hop, graffiti, and breakdancing, forming the Rhymesayers label and collective (originally known as Headshots) with two high-school friends Siddiq Ali (Stress) and Derek Turner (Spawn). After some early gigs as Urban Atmosphere — where Slug DJ'ed behind Spawn's rhyming — the pair hooked up with producer Ant, as well as like-minded locals such as MC Musab, Mr. Gene Poole, and the Abstract Pack, forming an underground hip-hop clique dedicated to freestyling and clever lyricism. In 1997, Atmosphere released their debut album, Overcast!, which quickly became regarded as an underground hip-hop classic thanks to Slug's deeply personal, poetic musings, as well as Ant's bare-bones — but inventive — production.
Following Atmosphere's involvement with supergroup the Dynospectrum (who released a self-titled album on Rhymesayers in 1998) and Slug's participation in another supergroup, Anticon's Deep Puddle Dynamics (whose full-length The Taste of Rain…Why Kneel appeared in 1999), the next Atmosphere album was a 1999 cassette called Headshots: Se7en. The group also began a series of limited releases (often sold exclusively on tour) titled Sad Clown Bad Dub, beginning with an extremely scarce 1999 cassette. A year later, Atmosphere (now down to the duo of Slug and Ant) released the Ford One and Ford Two EPs, followed by the Lucy EP in 2001. Collected as the 2001 full-length Lucy Ford: The Atmosphere EPs, the three EPs were built around the theme of Slug's complicated relationship with his ex-girlfriend, the lost love of his life. As Atmosphere's following increased beyond underground hip-hop circles, they toured consistently, both at home and overseas; while Ant usually didn't accompany the group on the road, Mr. Dibbs of the group 1200 Hobos often joined in behind the turntables while Slug was assisted on the mike by young rappers like the teenaged Eyedea. In June 2002, Atmosphere unleashed God Loves Ugly, an 18-track effort that returned to previous themes ("F*@k You Lucy"), but also contained the group's most pop-friendly single to date, "Modern Man's Hustle."
By this time indie rap superstars, Atmosphere returned with their fourth album, Seven's Travels, in 2003, followed two years later by You Can't Imagine How Much Fun We're Having. Following the album's success, Ant began regularly touring with the group. They continued to put music out during the next couple of years, including the free download Strictly Leakage in late 2007, a near-party album that they followed up with When Life Gives You Lemons, You Paint That Shit Gold in April 2008. The record featured plenty of live instrumentation and guest background vocal spots from Tom Waits and TV on the Radio's Tunde Adebimpe; it was also their highest-charting album, hitting number five on the Billboard 200. The "double EP" To All My Friends: Blood Makes the Blade Holy appeared in 2010, with the full-length album The Family Sign following in 2011. In 2014 the group released the album Southsiders, which featured the single "Bitter." The following year, Atmosphere celebrated the ten-year anniversary of You Can't Imagine How Much Fun We're Having by reissuing the album as a four-LP set (including instrumental versions of all the album's songs), in addition to The Fun EP, a picture-disc vinyl issue of an EP of You Can't Imagine outtakes that was originally released as a promo CD in 2006. In 2016 they returned with Fishing Blues, an album that featured the single "Ringo" along with guest appearances from MF Doom, Kool Keith, and Aesop Rock. While the set peaked just outside the Top 20 on the Billboard 200, it became their second album to top the U.S. indie chart.
Location
Revolution Live
100 SW 3rd Ave.
Fort Lauderdale
FL
33312