BLXST – Before You Go Tour
With Buddy
Wednesday,
August
17,
2022
Doors: 7:00 PM
$25 // $27
All Ages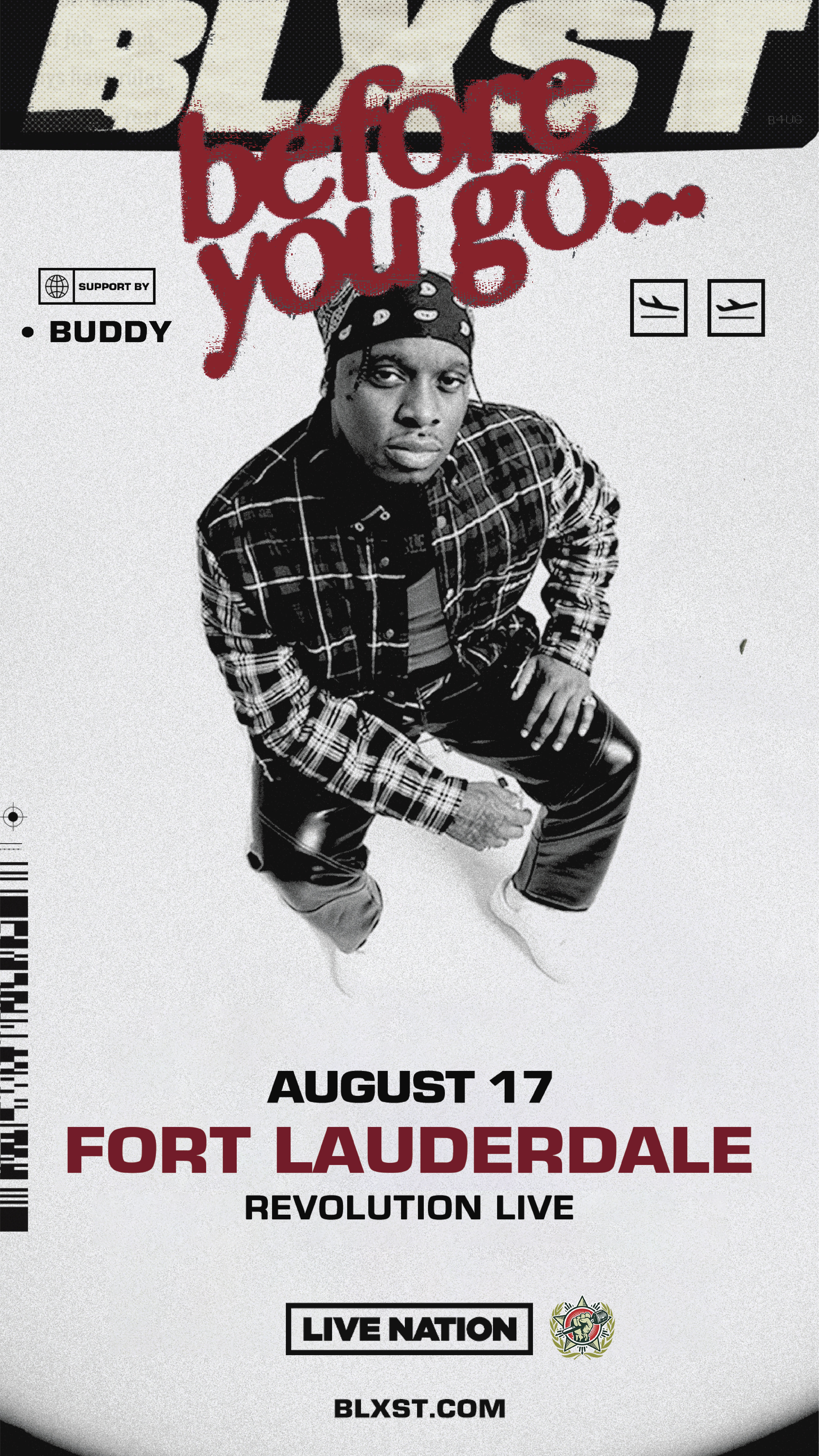 In the beginning, the West Coast blessed the world with Dr. Dre, Eazy-E, Ice Cube, and Snoop Dogg, among other forefathers, G-Funk godfathers, and doggfathers. At the turn of the century, Game came through and gave Southern California another renaissance before Kendrick Lamar downright defined the "twenty-tens." As one decade rolled into the next, proud South Central son Blxst copped the torch and lit up a whole new era as a rapper, singer, songwriter, and producer, architecting every aspect of his vision—from mixing and mastering to even self-editing videos and artwork. 
Posting over one billion career streams, claiming a place in XXL's coveted 2021 Freshman Class, selected as an Amazon Breakthrough Artist, a BET Hip Hop Awards and BET Soul Train Awards nominee, and pegged as an "Artist to Watch" by Billboard, Complex, Pigeons & Planes, UPROXX, and more, he ushers in another era for West Coast culture and hip-hop with his anxiously awaited debut LP and much more music to come.
"I try to make my music sound smooth, laidback, and cohesive," he states. "I like to live in both worlds of R&B and rap."
As the story goes, Blxst developed a deep appreciation for language when his rapper uncle encouraged him to learn a new word in the dictionary each day as he simultaneously immersed himself in music. By high school, he taught himself how to produce and record, going on to collaborate behind-the-scenes with Kendrick Lamar, YG, Eric Bellinger, Mustard, and G Perico, to name a few.
Following a string of buzzing singles in 2019, he forged an ironclad creative partnership with Bino Rideaux on their first critically acclaimed Sixtape, which Blxst produced. During 2020, he partnered with Red Bull Records and unleashed his solo debut EP, No Love Lost, to unanimous tastemaker praise. Following release, it rose to #3 on the Billboard Heatseekers Albums Chart, #6 on the Rolling Stone Breakthrough 25 Chart, and #11 on the Trending 25 Chart, while the single "Overrated" soared to #15 at Urban radio.
Driven by a seamless fusion of slick hip-hop and smoked-out R&B, the deluxe version of No Love Lost also yielded the smash "Chosen" (feat. Ty Dolla $ign and Tyga). The hit single posted up over 300 million streams in less than a year while breaking into the Billboard Hot 100 and #1 at Rhythmic and Urban radio. Pitchfork attested, "No Love Lost felt like reading through Blxst's journal, watching him maneuver through the pitfalls of friendship and love," while Pigeons & Planes crowned it "one of the best projects" of the year. Not to mention Anderson .Paak, Kehlani, NBA superstar Russell Westbrook, Yara Shahidi, Jordyn Woods, and Gabrielle Union have all professed their fandom.
Blxst only increased this momentum throughout 2021. Following bangers such as "Don't Forget" (feat. Drakeo the Ruler) and "Fck Boys" (feat. Russ) from the two-pack Just For Clarity, he reunited with Rideaux on Sixtape 2. It captured #1 on the Billboard Heatseekers Albums Chart and crashed the Top 200—a career first for Blxst. Right out of the gate, Vibe raved, "This moment belongs to Blxst and Bino Rideaux," as it piled on tens of millions of streams. 
He also earned the Billboard Rising Star Award, becoming the first artist to ever receive the honor at the 2021 Billboard R&B/Hip-Hop Summit. With excitement at a boiling point, he sold out his entire fall 2021 No Love Lost Tour in ten seconds. Beyond collaborations with Nas, Mozzy, Snoop Dogg, 1TakeJay, and Dame D.O.L.L.A., he landed high-profile syncs in NBA2K22, FBOY Island, and Madden 22, with his track "Gang Slide" featured as the main theme for Issa Rae's HBO Max series, Sweet Life: Los Angeles.
For as much as he retains certain hallmarks of his hometown—the dripping harmonies, hazy flows, and quotable bars—Blxst continues to traffic in a lane of his own, bringing the game with him as he quietly fulfills the destiny he realized in the heart of South Central.
"I want to speak to the kid who is in his bedroom all alone wondering if this is possible and showing him it is," he concludes. "My life is the definition of dreams to reality. I'm here to let you know you're not alone. That's the most important thing always."
Location
Revolution Live
100 SW 3rd Ave.
Fort Lauderdale
FL
33312