Local Natives
With Devon Gifillian
Wednesday,
September
18,
2019
Doors: 7:00PM
$27 // $29
All Ages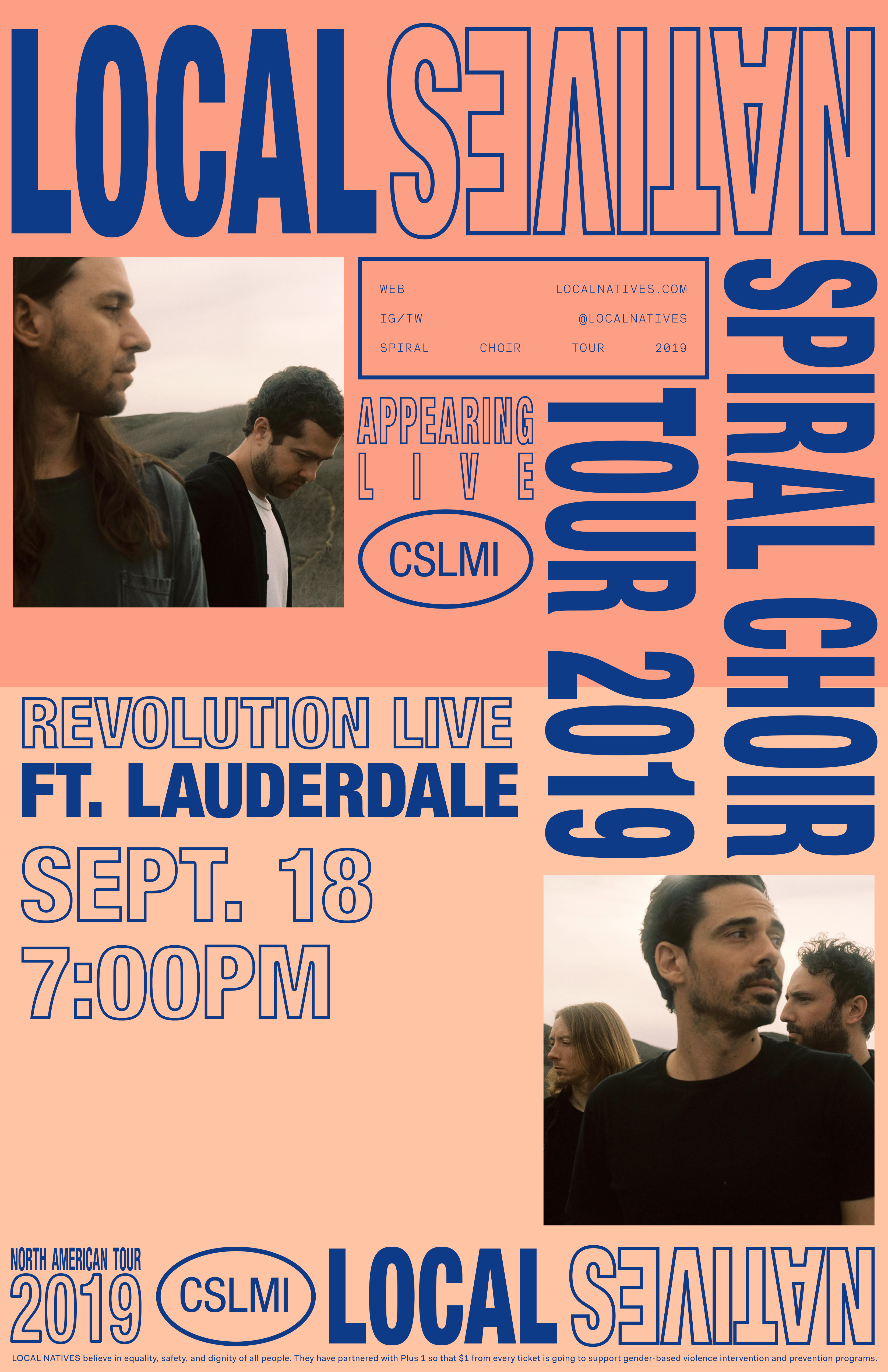 Face-to-face songwriting and musical interplay put to tape: the classic studio setting is juxtaposed on Local Natives' fourth full-length, VIOLET STREET [Loma Vista Recordings] with modern production and visuals to form a timeless album. The band's signature soaring 3-part harmonies are augmented by loops of tape, physically spliced and transformed by hand, the result of experimenting in the studio with producer Shawn Everett [Alabama Shakes, Kacey Musgraves, The War On Drugs] is a band renewed.
In essence, Local Natives [Taylor Rice (vocals, guitar), Kelcey Ayer (vocals, keys), Ryan Hahn (vocals, guitar), Matt Frazier (drums), and Nik Ewing (vocals, bass, keys)] return to the methods of their 2009 debut Gorilla Manor, but with the bonds of their union fortified and with the growth of wisdom accrued in the studio and on stage in front of millions of worldwide fans.
"The record is about us reconnecting to playing off of each other," states Taylor. "We didn't go into separate corners, produce our own songs, and bring them to the group. Back when we made Gorilla Manor, we lived together in one house and made a frantically creative environment. This time, we were in a massive warehouse with Shawn, jamming, and relying on each other often until three or four in the morning for several nights straight. It was fun, but also pushed us to outdo each other. We got back to our strengths. We've always been super collaborative and democratic, as we have three songwriters and singers, and all five of us have a lot of creative input. This was the most collaborative and open we've been though. We were raw and vulnerable. It's the first time we didn't do any pre-production, we went in and built the record out of nothing."
LOCAL NATIVES believe in equality, safety, and dignity of all people. They have partnered with Plus 1 so that $1 from every ticket is going to support gender based violence intervention and prevention programs.
Location
Revolution Live
100 SW 3rd Ave.
Fort Lauderdale
FL
33312