Nonpoint
With He Is Legend and Letters From The Fire
Saturday,
August
25,
2018
Doors: 7PM
$20 // $24
All Ages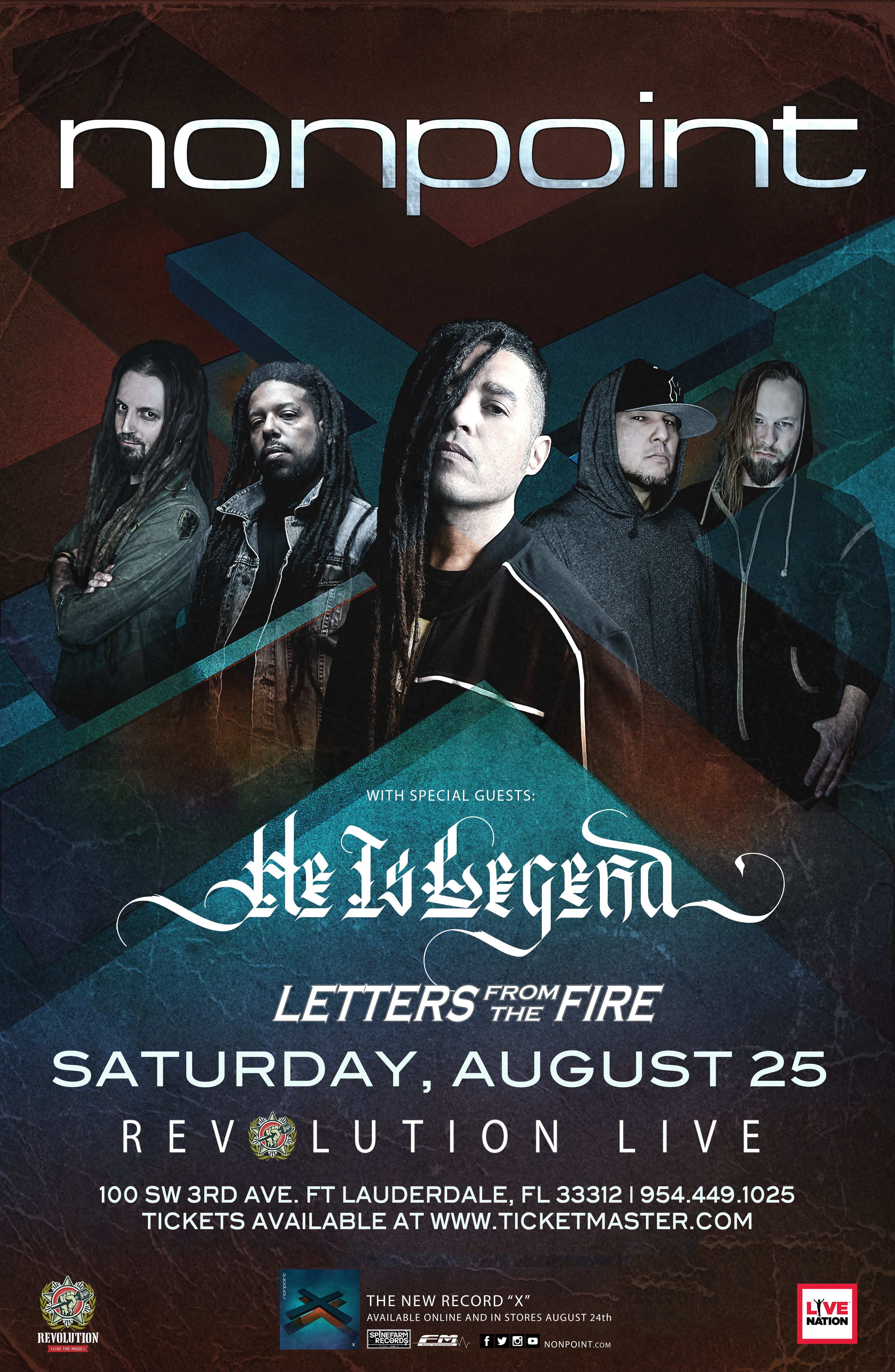 Formed in Miami in 1997, Nonpoint is an alternative metal/rap-metal foursome whose members have included vocalist Elias Soriano, drummer Robb Rivera, guitarist Andrew Goldman and bassist Ken "KB" MacMillan.
Occasionally, the bilingual Soriano sings and raps in Spanish, although the vast majority of Nonpoint's lyrics are in English. Nonpoint's first CD, Separate Yourself, was released independently in 1997 and was followed by 1999's Struggle on Jugular and 2000's Statement on MCA. After several tours with artists like Sevendust, Linkin Park, and Staind, the band stepped back into the studio and returned in the summer of 2002 with Development. They released Recoil in 2004, a 13-track collection of streamlined power that included a cover of Phil Collins' "In the Air Tonight."
Nonpoint eventually signed on with producer Jason Bieler's Bieler Bros. Records, where they released 2005's To the Pain, their 2006 live album Live and Kicking, and 2007's Vengeance. In 2008, Nonpoint announced they were parting ways with Goldman, who was replaced by guitarist Zach Broderick. Miracle arrived in 2010 and debuted at number 59 on the Billboard 200 chart. Before the follow-up, the band rearranged the lineup, with new bassist Adam Woloszyn replacing MacMillan and guitarist Rasheed Thomas taking over for Broderick. 2012's Johnny K-produced eponymous Nonpoint, which was released through Razor & Tie, saw the band moving in a more post-grunge direction. Arriving in 2014, The Return would be the group's highest-charting LP to date, debuting at number 38 on the Top 200. At this time, BC Kochmit joined Nonpoint to make the band a quartet.
In early 2016 Nonpoint released the single "Generation Idiot" in anticipation of their ninth studio long-player, The Poison Red, which dropped later that summer. Red debuted at #2 on the Billboard Hard Rock chart, #7 on the Alternative and Top Rock charts, and at #73 on the Top 200.
Location
Revolution Live
100 SW 3rd Ave.
Fort Lauderdale
FL
33312