Strung Out
With Special Guest (TBA) and MakeWar
Friday,
August
31,
2018
Doors: 7:30PM
$18 // $20
All Ages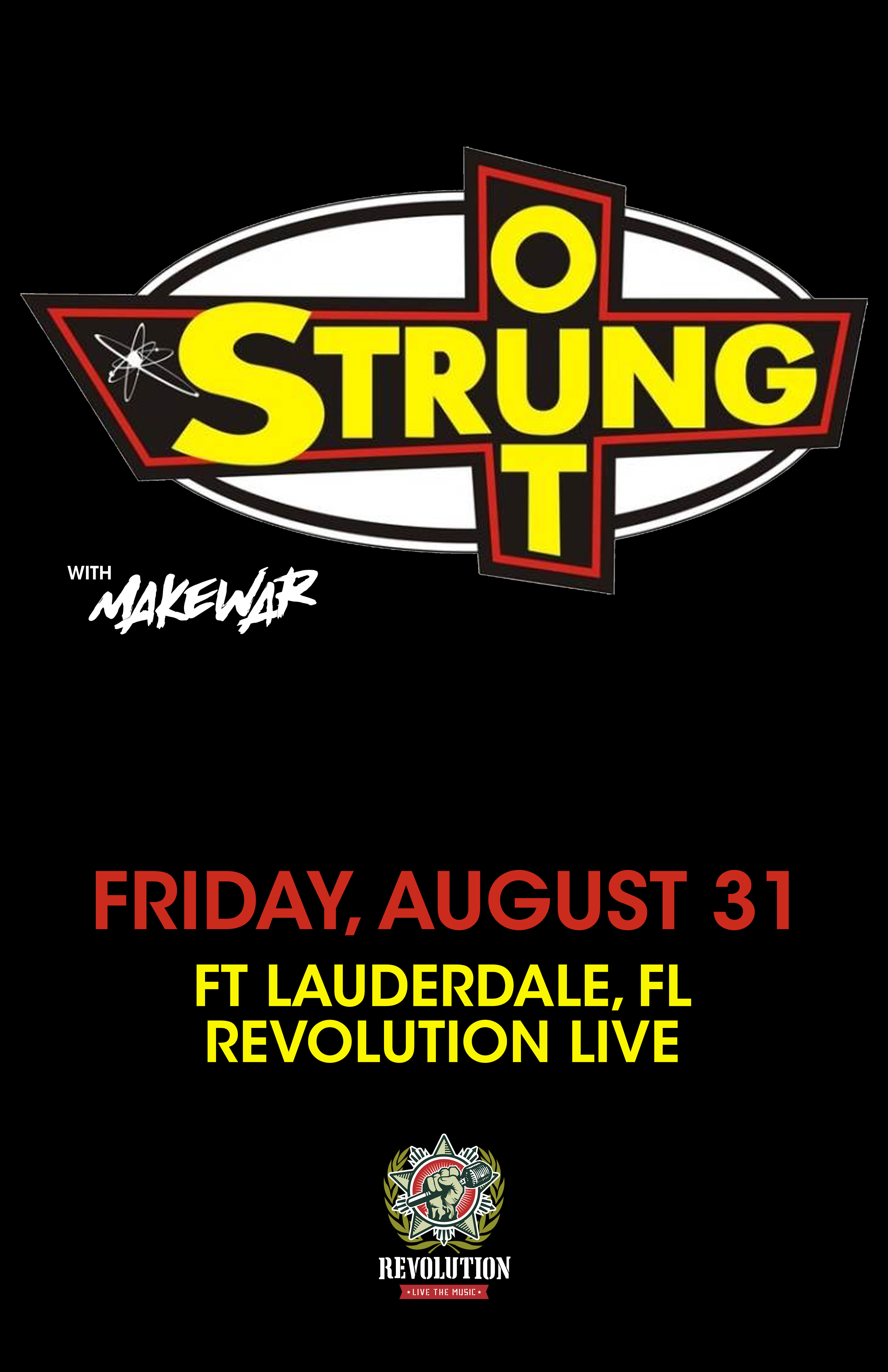 Debuting with a mixture of punk speed and metal guitar power, Southern California outfit Strung Out were mainstays of the punk circuit for decades, playing hardcore anthems with anti-authority attitude until evolving with a more melodic approach in their late-era years. Formed in 1989 with a lineup featuring vocalist Jason Cruz, guitarists Jake Kiley and Rob Ramos, bassist Jim Cherry, and drummer Adam Austin (by the time Strung Out released their first 7″, Austin had been replaced by Jordan Burns), the quintet signed with NOFX bassist Fat Mike's Fat Wreck Chords label in 1993 and issued a debut album, Another Day in Paradise, the following year.
The band took an artistic leap forward with the 1996 follow-up, Suburban Teenage Wasteland Blues, an album whose rapid-fire playing began to build a following among fans of new-school pop-punk. In 1998 Strung Out issued the Crossroads & Illusions EP and the full-length Twisted by Design, the latter a more progressive work that found the group beginning to mix elements of technique-oriented heavy metal into its instrumental attack; in addition, Fat Wreck Chords issued a set of early Strung Out material titled The Skinny Years: Before We Got Fat.
Cherry left the band in 1999, going on to play with Zero Down and Pulley, and was replaced by Chris Aiken on bass. The band returned in 2000 with the EP The Element of Sonic Defiance, following two years later with An American Paradox. The set was the band's first album to chart on Billboard, debuting inside the Billboard 200 and hitting number 11 on the Independent Albums chart. Their summer 2003 live album — part of their label's Live in a Dive series — featured 21 tracks and comic book artwork done by Cruz himself.
The band's fifth full-length, Exile in Oblivion, was produced by Matt Hyde (Slayer) and issued in November 2004. Exile contained the song "Swan Dive," which was a tribute to former bassist Jim Cherry, who had sadly passed away in July 2002 from a lifelong heart condition. The band's next effort, Blackhawks Over Los Angeles, arrived in June 2007, peaking in the Top Five of the Heatseekers chart.
Strung Out celebrated their 20th anniversary in 2009 with the release of the rarity/B-side set Prototypes and Painkillers and Agents of the Underground, their seventh full-length. Produced by Cameron Webb, Agents was just their second album to chart within the Billboard 200. After touring behind the record, the band took a break and didn't return until 2015 with its highest-charting effort to date, Transmission.Alpha.Delta.
While recording a follow-up, the band parted ways with Burns after 25 years together. In the studio, his spot was filled by Sean Winchester (Everclear, Buckcherry), while Runaway Kids' RJ Shankle took over live duties. Months later, in spring 2018, Strung Out issued their eight-song Black Out the Sky, an acoustic set that stripped back their usual punk blasts in favor of a melodic, matured, and reborn sound.
Location
Revolution Live
100 SW 3rd Ave.
Fort Lauderdale
FL
33312