The Interrupters
Friday,
March
8,
2019
Doors: 6:30 PM
$24 // $26
All Ages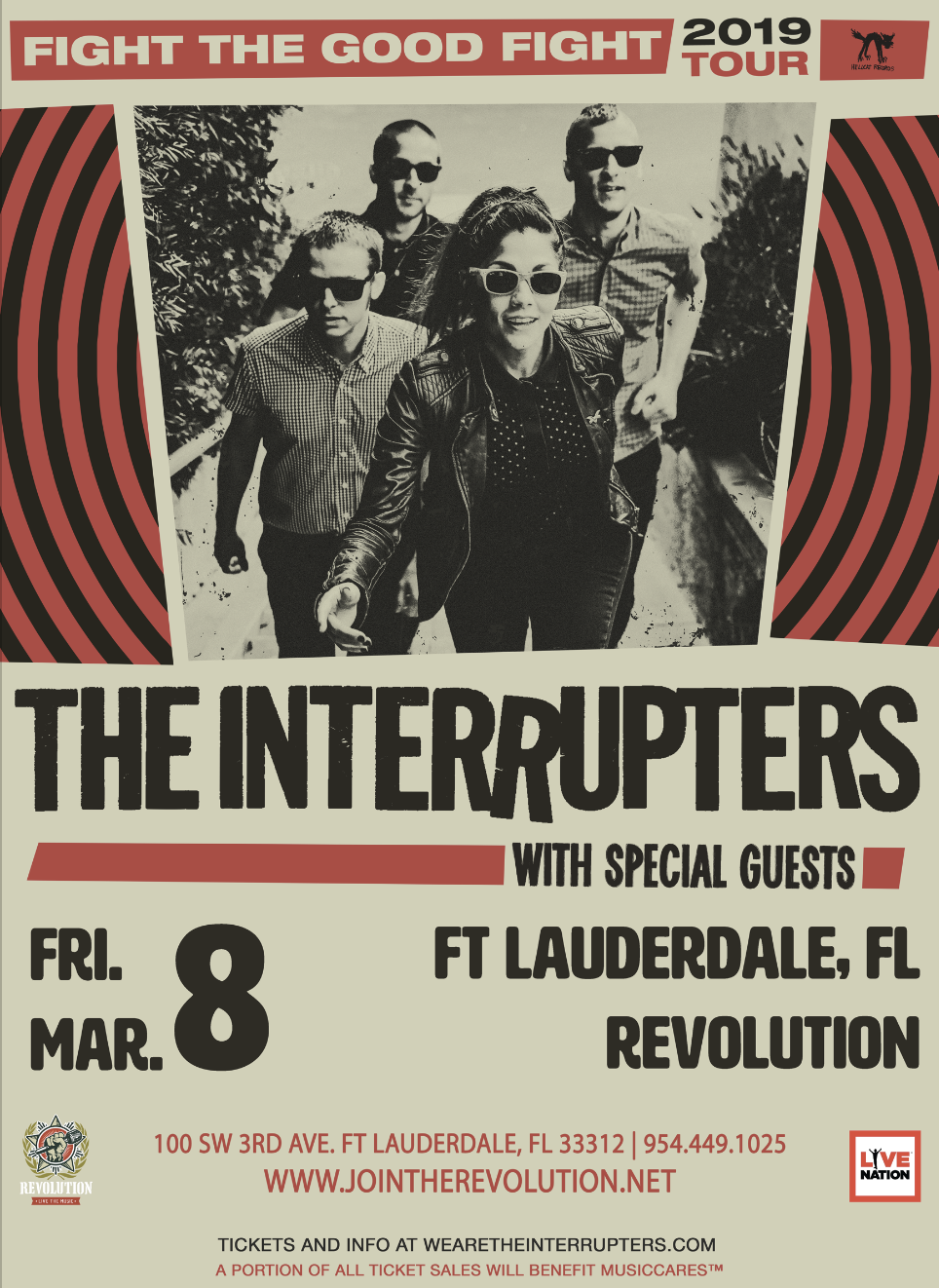 California ska-punk band the Interrupters are another example of how the uptempo variation on the classic Jamaican sound remains a perennial favorite on the West Coast. The group banded together in the 2010s and teamed with producer Tim Armstrong of Rancid to crank out a series of albums, like 2016's Say It Out Loud, that harked back to the classic sound of 2-Tone Records, but added a modern punk power.
The bandmembers were already music industry vets when they formed the Interrupters in 2011, after vocalist Aimee Interrupter met the Bivona brothers (guitarist Kevin, bassist Justin, and drummer Jesse) backstage at a show she and the Bivonas' band the Telecasters were playing. Previously, Aimee had appeared on the Hairspray soundtrack, sung on Jimmy Cliff and Sublime with Rome records, and released a solo album in 2009. Meanwhile, Kevin Bivona was an in-demand studio engineer, and Justin and Jesse Bivona played in Sugar Ray's live band.
They dug deep into their ska-punk roots and soon caught the ear of Rancid's Tim Armstrong, who invited the Interrupters to contribute to his solo project Tim Timebomb and Friends. They played live shows with Armstrong and also appeared on his recordings. Armstrong repaid the favor by signing them to Hellcat Records, and the band released two singles in 2013, "Liberty" and "Family." Both were produced by Armstrong, as was their self-titled debut album, which was released in 2014, after which the Interrupters hit the road and played with groups like Rancid, blink-182, and Bad Religion.
The Interrupters and Armstrong soon returned to the studio to record the band's second album, Say It Out Loud, which was released in June 2016. They toured the world afterward as headliners and as support to Green Day, as the album reached several Billboard charts, including Heatseekers and Top Rock Albums. Their next album, 2018's Fight the Good Fight, was again produced by Armstrong, with Tom Lord-Alge doing the mixing. Recorded live to tape, the record captured the band's live sound, which had been honed to a fine point by seven years of playing shows.
Location
Revolution Live
100 SW 3rd Ave.
Fort Lauderdale
FL
33312