Falling In Reverse
With Escape The Fate & Word Alive
Wednesday,
February
12,
2020
Doors: 6:00 PM
$23 // $25
All Ages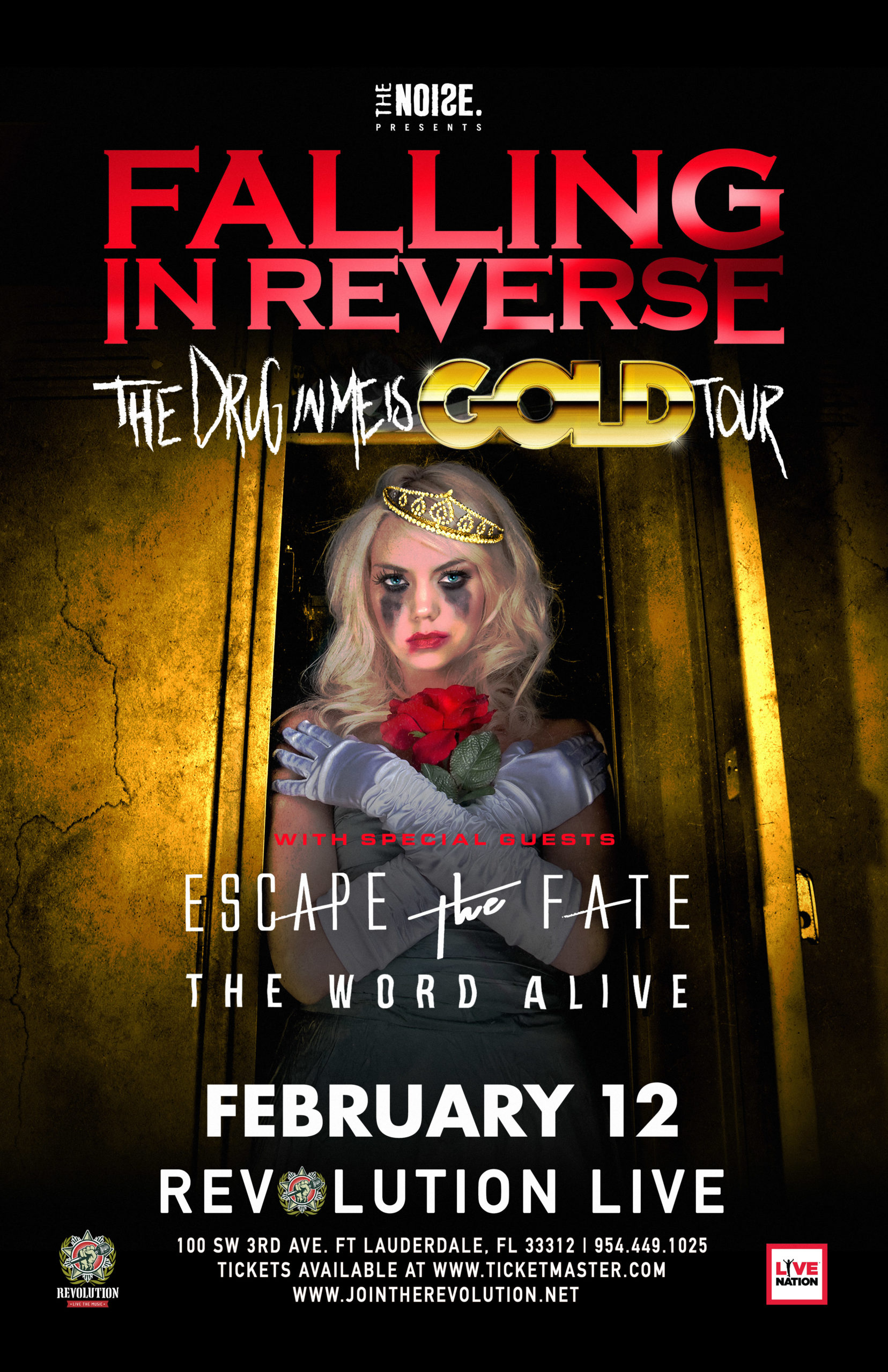 The fine line between genius and insanity, self-seriousness and self-deprecation, implosion and explosion: that is the phantom zone where FALLING IN REVERSE thrives.
Falling In Reverse founder, frontman, and Machiavellian heroic supervillan / villainous superhero Ronnie Radke is the walking, talking, breathing, spitting, screaming, singing, fighting, loving, hyper-confident, sensitive, and vulnerable embodiment of a generation's id. He's the ego and super-ego in the classic Freudian sense, "slipping" all over the place with vicious bite and playful innuendo. With his music, art, and life, he is the living embodiment of broken homes, the frustrated contradiction of self-destruction, and everyday single-minded defiance against a world gone mad.
COMING HOME is his latest reinvention, coming full-circle back to the start, reinvigorated as mad scientist conductor of soaring, transcendent, engaging alternative pop-rock with massive radio hooks and a still-beating heavy metal hardcore heart. "Broken," "Loser," "Hanging On," "I Don't Mind," and "Coming Home" are shocking in their epic scope, vibrant authenticity, and unrelenting dedication to personal truth.
He shoved the world of Warped Tour kicking and screaming into the vintage decadence of the hard rock scene with the band he formed with his childhood best friend in Las Vegas. Then, even as countless bands followed in his wake, he was on the stylistic move, dominating the social media conversation and crowd sing-alongs with Falling In Reverse's debut album, The Drug in Me is You, now based in Southern California.
As Revolver, Kerrang!, Alternative Press, and the rest of the rock and metal press anointed him the scene's new king on the strength of playful self-examinations-turned-anthems like "Raised by Wolves," "Tragic Magic," and "I'm Not a Vampire," Radke and his crew shook up conventions once again, dropping the ironically titled Fashionably Late years before the audience at large had any suspicions about what would hit 'em.
What began as the "worst music video of all time" (according to media tastemaker VICE) turned into another 20 million YouTube views (for a band closing in on roughly 100 million views total) in "Alone." Like many parts of the eclectic album, it's a rap-metal
hybrid with a forward thinking step into modern electro beats. Like the best of Radke's work, the song serves as both hyper masculine anthem and anxiety confessional. The press and fans followed the band's every move, documenting each twist and turn.
Just Like You mined similar territory with even more precision, from the title track to undeniable metalcore bangers like "Chemical Prisoner" and "Guillotine IV (The Final Chapter)," to the poppy crowd-mover "Sexy Drug," and heartbreaking ballad, "Brother."
Coming Home is the most focused Falling In Reverse album, thematically and artistically. Crafted once again with Michael "Elvis" Baskette (Alter Bridge, Slash, Trivium), who has worked on every one of Radke's records going back to the now-classic debut album from Escape The Fate, the record sees the group at their most atmospheric. It's the latest bold step for a frontman who has defined himself by a mixture of courage and vulnerability, of bravado and introspection. He's tightened his personal inner circle and withdrawn from the antics of the past as he's poured even more of himself into his art.
Coming Home is the album Radke dreamed about making as a kid, teaching himself to play guitar with Blink-182 and Green Day songs, rapping along to Dr. Dre and Eminem, skipping school, going to shows, and doing whatever it took to redefine his life beyond the hardscrabble circumstances of his upbringing, even when the obstacles were of his own design. Now it's time to get Coming Home to as many people as possible.
FALLING IN REVERSE continues to champion the outsider, the cast aside, the underestimated, making music to empower and inspire life's underdogs.
Location
Revolution Live
100 SW 3rd Ave.
Fort Lauderdale
FL
33312