A.C.E.
Wednesday,
December
11,
2019
Doors: 7:00PM
$55 // $145
All Ages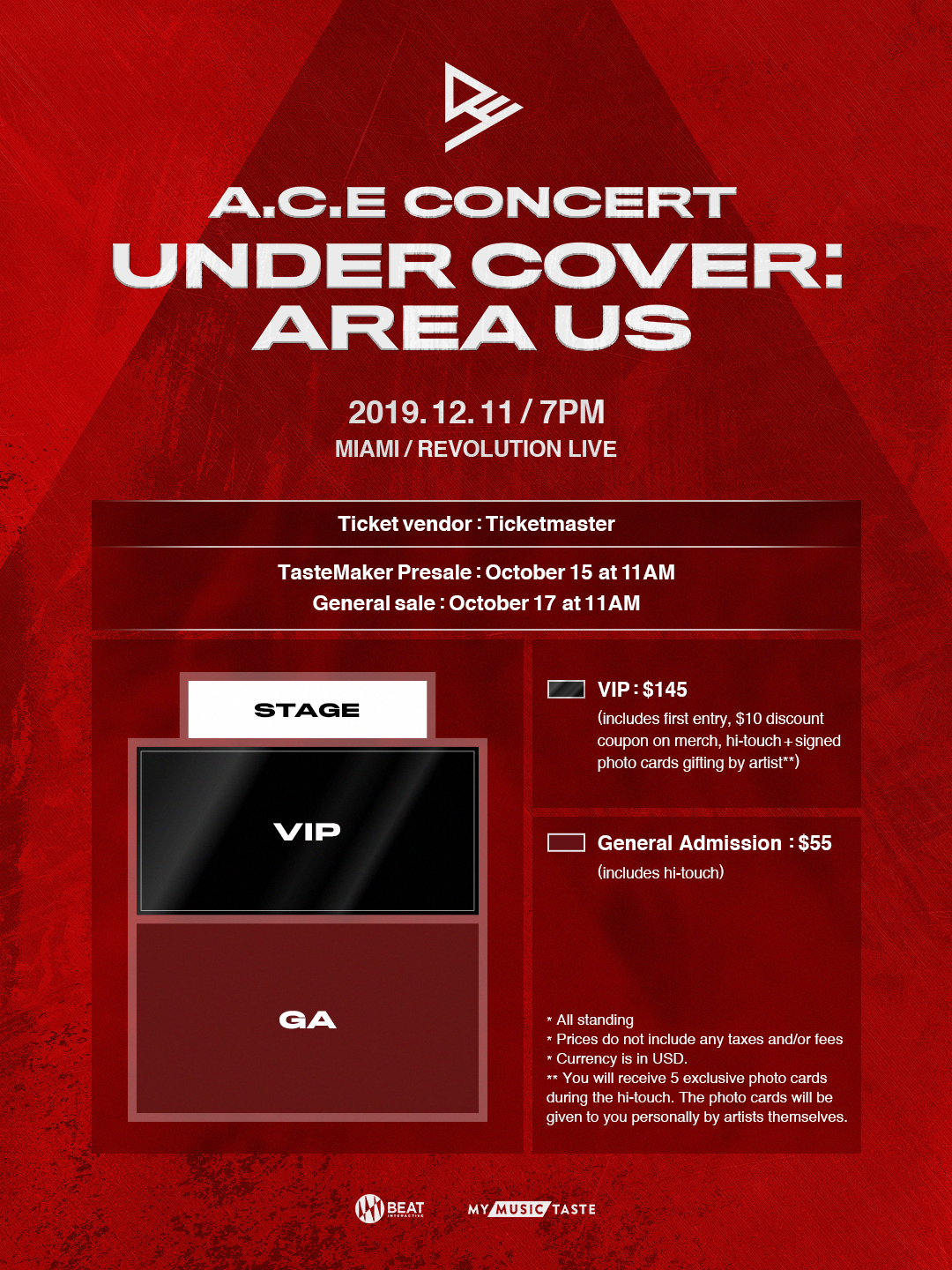 South Korean boy group A.C.E will be back on the road to meet their fans through the new tour A.C.E CONCERT [UNDER COVER: AREA US]. The concert in Fort Lauderdale will take place on December 11 at Revolution Live.
This time, A.C.E is returning stronger than ever with their latest comeback "Under Cover," which proves to be a real show stopper. Since their debut in 2017, the band has never been afraid to experiment with their concepts and sound. With each release, they have been able to surprise their fans. Once again, A.C.E showcases their versatility as "Under Cover" offers a balanced mash-up of rock and hip-hop genres juxtaposed with their husky vocals in the chorus, which later climaxes into a clear falsetto delivery towards the end of the track.
Their newly refined sound and powerful looks promise stage-burning performances that fans can look forward to. The group's five members, Jun, Donghun, Wow, Kim Byeongkwan, and Chan, are ready to sweep away their audience with their dynamic energy and intensity.
This tour is brought to you by the overwhelming demand of A.C.E fans on MyMusicTaste, a global online service that allows fans to request their favorite artists to their city. Presale tickets, exclusive to MyMusicTaste users who requested A.C.E in Miami, will be available on October 15 at 11 AM local time. General sales on tickets to the public will then begin on October 17 at 11 AM local time.
If you have requested A.C.E x Miami on MyMusicTaste, your unique, one-time use promo code has been sent to your MMT-registered email and phone number. Enter your promo code at checkout to redeem your presale and 10% discount benefit!
*If you are not a MyMusicTaste member yet, join us on https://mmt.fans/Caem/ and request your favorite artist's concert! You too can have access to special perks when your dream concert becomes a reality!
Location
Revolution Live
100 SW 3rd Ave.
Fort Lauderdale
FL
33312